News & Gossip
THIS is how Ranveer Singh reacted when Karan Johar narrated him Takht!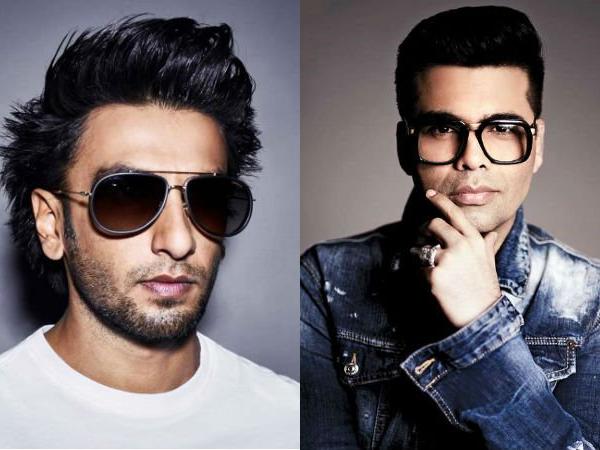 Koffee With Karan season 6 is going on pretty well with absolutely splendid combinations coming to the couch this season! Ranging from Alia Bhatt and Deepika Padukone combo to Arjun Kapoor and Janhvi Kapoor combo to Saif Ali Khan and Sara Ali Khan combo to the best ever combination, that of Ranveer Singh and Akshay Kumar! With the two most funny and notorious characters of Bollywood being on the couch with Karan Johar hosting the show, the episode had to be a huge success! While on Koffee With Karan, Ranveer Singh was asked about his reaction when Karan Johar narrated Takht to him and here's what the actor had to say!
https://www.instagram.com/p/BpcEY_CgYlG/?hl=en&taken-by=karanjohar
During the Rapid Fire round on Koffee With Karan, Ranveer Singh was asked a question that most would like to dodge. However, Ranveer being Ranveer, answered it without giving a second thought. The quirky actor was asked if he ever had inappropriate thoughts during the narration of a film, to which he quicky responded, "Yeah, I got a hop during Takht." The actor divulged that when Karan, who is all set to direct Takht, was narrating him the film, he "got a 'fulleshwari' when that Hira Bai and Aurangzeb scene happens."
https://www.instagram.com/p/BomkPGQhtsv/?taken-by=ranveersingh
Over this, Karan Johar said that Ranveer Singh was not even a part of the scene. He is playing Dara Shikoh, the eldest son of Mughal emperor Shah Jahan, in Takht. "But that's the power of your writing, Karan. Narration mein 'fulleshwari'. Kya baat hai!", the actor said.
https://www.instagram.com/p/BomXGV1lAty/?hl=en&taken-by=karanjohar
Takht, that also features Kareena Kapoor Khan, Alia Bhatt, Vicky Kaushal, Janhvi Kapoor, Bhumi Pednekar and Anil Kapoor in the lead roles, is expected to go on floors in mid 2019. The film, produced by Hiroo Yash Johar and Apoorva Mehta under the film production banner of Dharma Productions, will release in 2020.