News & Gossip
Taimur Ali Khan Owns A FOREST On His First Birthday, It ' s Serious!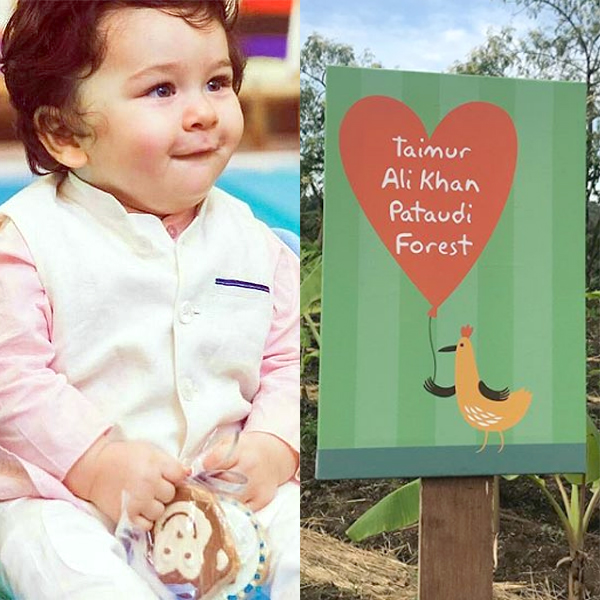 It would not be wrong to tell that Taimur Ali Khan is the most popular star kids in the country. His first birthday celebration made lots of headlines in the mainstream entertainment media. '#HappyBirthdayTaimur' was trending on Twitter for pretty long time. The pictures of his birthday were trending on social media.
On top of that, the youngest Nawab got a forest as a birthday gift. Yes, you read it, right! The forest is spread over 1000 sq ft. Kareena Kapoor's dietician Rujuta Diwekar has decided to plant more than 100 trees on the occasion of the first Birthday of Kareena's prince and the land also belongs to Taimur.
https://www.instagram.com/p/Bc60La_Fpg2/
She took to Instagram to reveal the news, "A little forest for Taimur. A little boy can never have enough of birds, bees and butterflies and so we have put together a small forest as a birthday gift for the little big boy, Taimur, in Sonave. It's a special forest, one that thrives on intercropping and i hope that as he grows he too will thrive in and celebrate a diverse society. A society where people live together through and due to their distinctions."
For uninitiated, Rujuta is a popular dietitian, who is responsible for Kareena's post-pregnancy transformation. She is very close to the popular actress and her son. Talking about the forest she further added, "The forest has about 100 trees on a 1000 sq ft plot. The trees are as young as Taimur, even younger actually, and each one of them is a local, native, climate resilient specie. It will be a forest of the super foods of the future. There are 3 jamuns, 1 jackfruit, 1 amla, 40 Bananas, 14 Moringas, 1 Kokum, 1 Papaya, 5 Seetaphal, 2 Ramphals, 2 Nimbu trees. Besides these it grows 3 different types of native pulses and many Mirchi, Ginger, Turmeric and kari patta plants. Not to mention the green leafy veggies and the genda phools that grow in between. Here's to living sustainably!"
In fact, Taimur's birthday cake was also forest-themed.