News & Gossip
Did Swara Bhasker Undergo Cosmetic Surgery, This Is The Truth!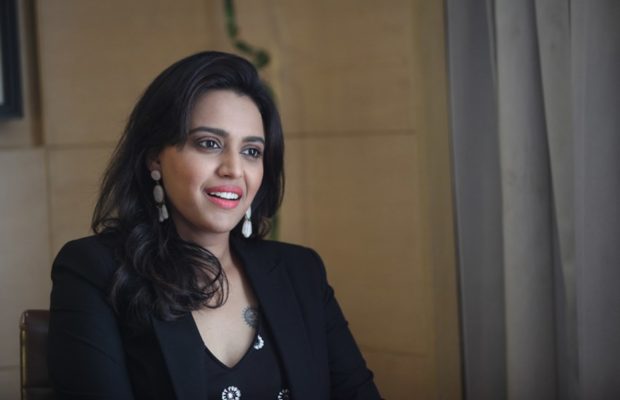 Swara Bhasker has been making lots of headlines nowadays. Earlier, she was in the news for her bold and controversial open letter against Sanjay Leela Bhansali's magnum opus Padmaavat. Her open letter divided viewers into two sections. However, she is back in the news, this time for the statement made by her while appearing on Entertainment Ki Raat.
While appearing on Colors TV's Entertainment Ki Raat, Swara Bhasker confessed that she opted for cosmetic surgery. She did all this for fun, but it looks like social media didn't pick up on her tone. The actress must have no idea what she is getting herself into.
https://www.instagram.com/p/BetnqochGsE/?taken-by=reallyswara
Today, reports of Swara Bhasker going under the knife surfaced online and it went viral in no time. Veere Di Wedding actress has not clarified her statement in an interview to the daily, "I didn't think anything was happening. I was answering questions candidly and in jest since we were on a comedy show. When asked about how I lost weight, I spoke about how I was so worried about weight loss (for her next, 'Veere Di Wedding') that I did everything from working out in the gym to the Keto diet to naturopathy to Fat Freezing – which is a non invasive method of spot fat reduction. I have no shame in talking about this. I'm an actor and I was working towards a role. It is my job to work towards looking and being the part I have to play,"
https://www.instagram.com/p/Bev6GDNhU31/?taken-by=reallyswara
She further added, "I have never undergone any kind of invasive treatment, nor any surgery. I have nothing against people who undergo cosmetic surgery, I believe in the principle, 'My Body My Right', so if people want to have cosmetic surgery, that is their personal choice and I'm no one to judge them. But personally, other than dental treatment over the years, I have never undergone any invasive or cosmetic surgery. I like my body and face the way they are, I'm comfortable and confident in my skin. I spoke of this quite frankly on the show."
https://www.instagram.com/p/BevPgGJhicu/?taken-by=reallyswara
However, this time Swara has learned a lesson and confessed that she won't joke on camera again. she added, "I guess the lesson people want me to 'learn' is that I should not joke or say anything in jest on camera, and self deprecating humour is a no-no. It is no wonder that celebrities never make any comments on any issue. Because as a public figure one is so easily vulnerable to spiteful slander."
After Swara Bhasker clarifying the statement, we hope people stop speculating things.
Tell us your thoughts in the comment section down below. Stay tuned to Filmymantra.com for more Bollywood updates.