News & Gossip
Super Mom Fights With A 13 Foot Long Wild Crocodile To Save Her Daughter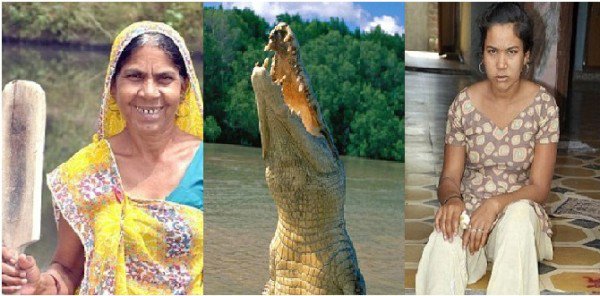 Super Mom Fights With A 13 Foot Long Wild Crocodile To Save Her Daughter
True it is, Mom can do anything and everything and 58-year-old Diwalinen Vankar is a living example. Her story is scary and can give tough competition to All South Indian movies.
So here is what she did.
Diwalinen Vankar and her daughter Kanta regularly goes to the bank of Vishwamitri river, in Vadodara to wash clothes. But unaware of the presence of a 13 feet long crocodile near the bank. They realized it after the crocodile came out from the dark and gloomy water and caught Kanta by her foot and dragged her towards the river. The mother and daughter got more shocked than scared, since they were busy washing clothes and could not expect something like this to happen.
The ferocious crocodile tried to drag the daughter, and the mother continuously tried to defend so as to safe her daughter. For the first few minutes, the mother tried to pull her daughter from the jaws of the croc but soon she took her Dhobi bat and started beating the crocodile with it, And hey, She emerged as a Winner, Hurray!!
"For several minutes I tried to pull her with my hands, but then I got hold of the wooden bat and started hitting its head forcefully. Her leg was trapped between the piercing teeth as she cried in pain, her hands were scratching the river bank to get a grip but it didn't let her go," the mother recounts.
By the time villagers would reach the spot the mother had already released her daughter from the jaws of the wild crocodile. And, truly a bravo mother, and miraculously Kanta has recovered as well from the injuries.
"She has miraculously survived. These crocodiles are huge and ferocious," Ashok Pandya, Vadodara wildlife officer said.
Last Year more than 5 people lost their lives after the attack of crocodile.