News & Gossip
Sugandha Mishra Releases OFFICIAL Statement On Kangana Ranaut's SLAP Remark!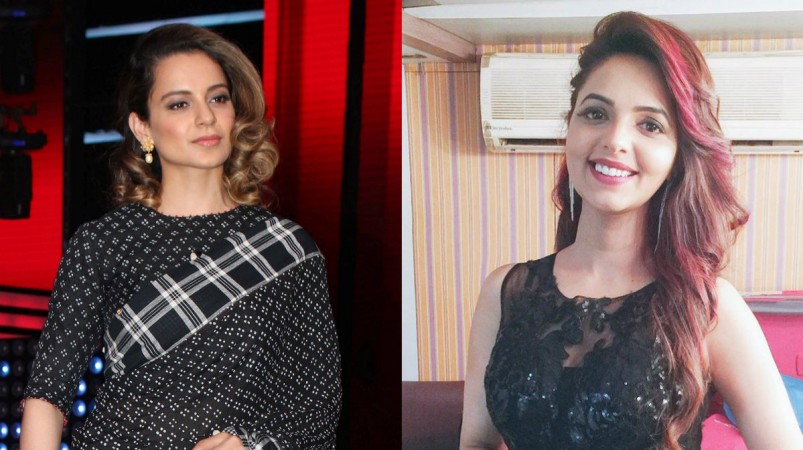 Since a couple of days the news of Kangana Ranaut wanting to slap Sugandha Mishra for mimicking her is breaking the internet. Kangana recently visited the Voice India show where Sugandha who is a stand-up comedienne mimicked Kangana which made the lady offend. As per reports,
"Singers Salim Merchant and Shaan, who appear as coaches on the show, started to pull Sugandha's leg and asked her to mimic Kangana in front of her. To that, Kangana said: "I feel like slapping her".
A source quoted to an online portal,
"It was a nail-biting moment after Kangana's shocking statement. It surely was an awkward moment for Sugandha, but she took it in a sporting spirit and continued with the shoot."
Only if you thought all that is for real, then hold on. The actress cleared the air and says it was all for fun. While talking to a tabloid, Kangana said,
"That was for fun and the cameras. I wasn't really offended. But it's unfair to judge a person on looks, clothes, accent and other superficiality. I should know since I was bullied a lot in the early years."
Even Sugandha Mishra released an official statement about the fiasco. Speaking about the same, Sugandha says:
"I really admire Kangana and her body of work. We had a great time while shooting the episode on Voice and the camaraderie is for all to see in the episode. Infact we did an act together where she calls up Datto and says datton thappad marungi to daant toot jayenge ('ll slap you, so all your teeth will fall off). Imitating her and the fashion walk was all in good humor and she appreciated it. That's all I want to say and there's nothing more to it."
Clearly, whatever Kangana does gets blown out of proportion and this incident is one more classic example. The actress is awaiting the release of Rangoon which has created a huge buzz. Shahid Kapoor, Kangana Ranaut, and Saif Ali Khan starrer 'Rangoon' is to hit theatres soon, and the cast is leaving no stone unturned when it comes to promoting the film. The Vishal Bhardwaj directorial is a love triangle between the three actors and is said to be the ace filmmaker's contemporary take on the 1942 film 'Casablanca'. The lead actors of Vishal Bhardwaj's Rangoon don't seem to be on good terms outside the shooting, and their onscreen camaraderie will be tested on February 24, 2017, when the film will open in cinema halls.