Breaking News
News
BJP MP Subramanian Swamy Says That He Can ' t Be A Chowkidar Because He Is A Brahmin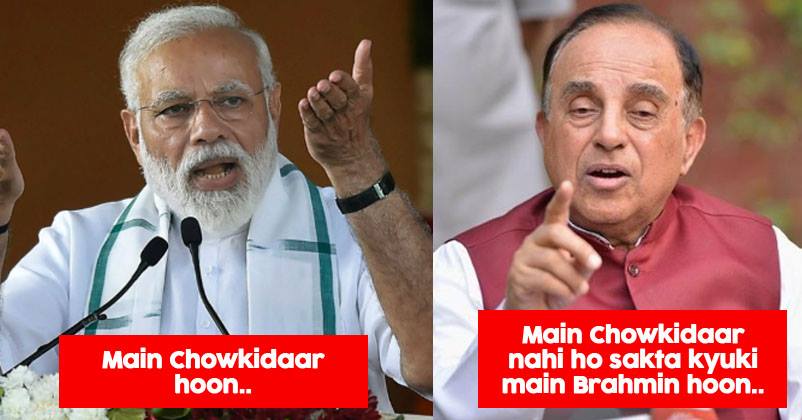 Narendra Modi urged his supporters to take the 'Main Bhai Chowkidar' pledge, saying he is not alone in the fight. The BJP's Rajya Sabha MP Subramanian Swamy has given a twist to party's 'Main Bhi Chowkidar' campaign saying he cannot be chowkidar because he is a Brahmin.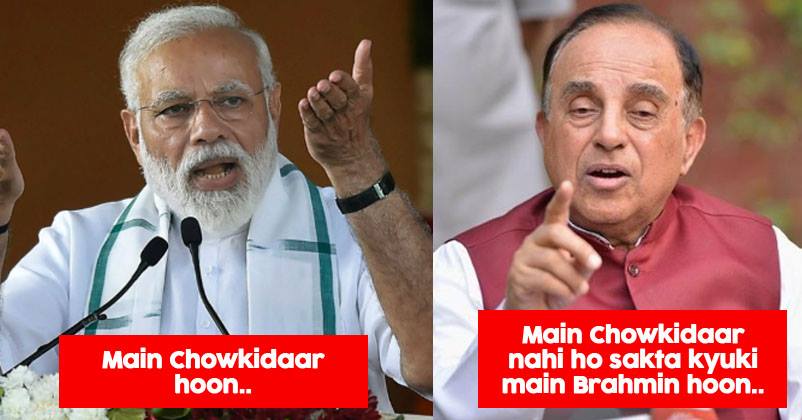 Subramanian Swamy made the comment while giving an interview to a Tamil channel says that , "I cannot become a Chowkidar because I am Brahmin. Brahmins can't be chowkidars.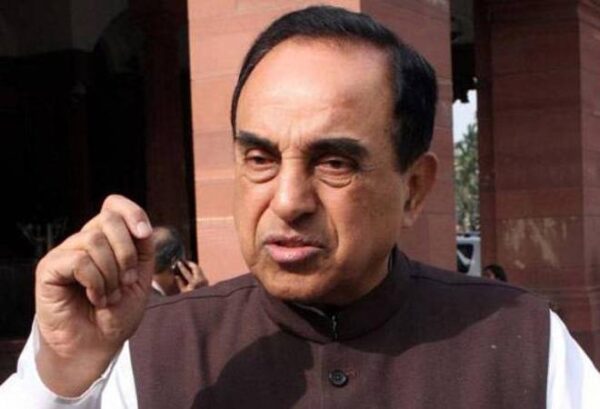 Modi himself started the "Main Bhi Chowkidar" campaign and later he added Chowkidar with his name, that was followed by BJP leaders including his cabinet colleagues. Subramanian Swamy is among the few BJP leaders who has not added the prefix with his name on Twitter, Swamy's response also shows the existing caste mentality in the country.
Watch the video:
https://twitter.com/balu_twits/status/1109709133534642177
Here's how the Twitterati reacted:
क्यों स्वामी जी
ब्राह्मण चौकीदार नहीं होते?
ये कैसी मनुवादी मानसिकता है आपकी?

— MP meena (@mmpal58) March 24, 2019
@_YogendraYadav @pbhushan1 @ShashiTharoor @kanhaiyakumar @Shehla_Rashid @jigneshmevani80
Do there exists anyone else apart from @Swamy39 who have such high educational qualifications from states & still believe & propagate hindutva and casteism.I thought pipl get rid of dis crap

— devansh agrawal (@agrawaldevansh4) March 24, 2019
@Swamy39 I thought you were progressive minded. Is this news about you true?

— TheSenator (@_Mr_Sarkar_) March 24, 2019
आज के समय में भी ऎसी बात… क्यू
आज के समय जब भारत में जातिवाद कम हो रहा है तो क्यू उसे बढ़ावा देते हो

— रामपाल कोटिया (@rampal_kotiya) March 24, 2019
https://twitter.com/Uday11000/status/1109822722044059650
https://twitter.com/prasha_bp/status/1109822341377212417
तो फिर मोदी जी किस कास्ट से आते हैं और बाकी जो लोग चौकिदार लिखे हैं वे सब किस कास्ट से हैं!

— Shaukat Ansari (@Shaukataindia) March 24, 2019