Bollywood
STAR-KID Sonam Kapoor Reacts To Kangana Ranaut Accusing Karan Johar Of Nepotism!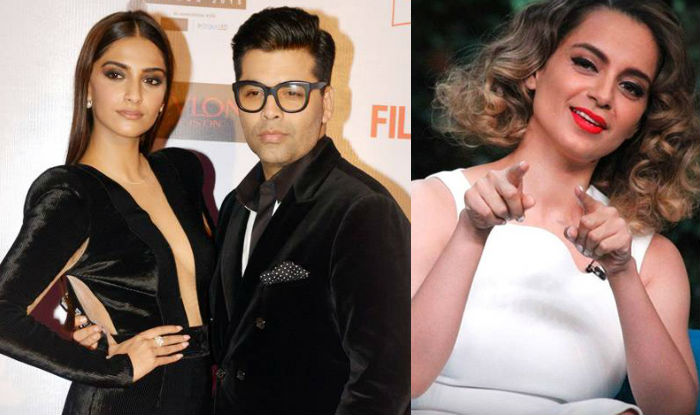 Kangana Ranaut's nepotism remark has divided Bollywood – Kangana against Bollywood. The Rangoon actress who made her Koffee debut on Karan Johar's show Koffee With Karan accused KJo of being "the flag bearer of nepotism" and since then her comment has become the hot topic of discussion in town.
Anil Kapoor's daughter, STAR-KID Sonam Kapoor who was recently asked about her opinion on Kangana's nepotism remark took a sly dig at the actress and said,
"What did she say? She keeps saying things all the time".
Later she did her damage control and tried to cover up. Sonam Kapoor further went on to say,
"She is very entertaining though. I love her interviews and look forward to them."
Now we wonder if this comment from Sonam will trigger another war for Kangana with her bold remarks and unabashed comments!
Also, earlier Mahesh Bhatt's daughter, STAR-KID Alia Bhatt was asked about Kangana's nepotism remark, to which she replied,
"I don't want to take any names, but there have been many examples of sons and daughters of lineage who have come and gone without achieving anything. What about that? Eventually, people come to see you as an actor and not because your family is famous, and you can't fool them. I am aware people do struggle to make a mark in the industry, but it's not right to blame nepotism. I didn't plan my birth in the Bhatt family. I can't change that and today, I am successful not just because my family is famous, but also because I have worked hard and you can't take it away from me."
Indeed Kangana's remark on nepotism was blown out of proportion (just because she was speaking the truth and truth is a bitter pill to swallow by some people!). In fact just a few days ago the filmmaker Karan Johar lashed out at Kangana saying,
"I was gracious enough to not cut Kangana's footage. It is her point of view but I am done with Kangana playing the victim card all the time. She cannot play this victim who has a sad story to tell about how she is terrorized by the bad world of industry, leave it then!"
Kangana Ranaut is not, however, one to shy away from expressing herself and she went on to slam Karan Johar by saying,
"Karan Johar is no one to tell me to leave. I'm not going anywhere!"
Well, well, we root for you, Kangana!