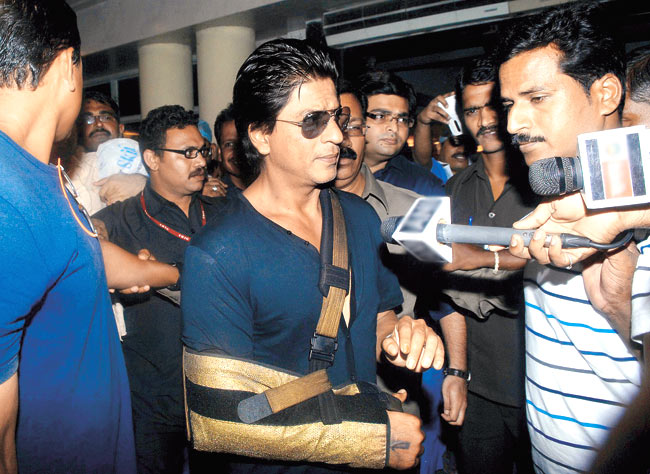 Bollywood superstar Shah Rukh Khan has undergone a minor shoulder surgery. Sharing the news on Twitter, SRK informed that he underwent a minor follow-up surgery on his left shoulder.
Along with the news, the actor also shared a picture of his right hand with 'Not Me' written on it. The doctors in order to avoid any mistake marked his right hand up and SRK found this gesture really sweet. Don't believe us? SRK took to his social media platforms and wrote:
""Had a minor follow up surgery on my left shoulder.They marked my right hand like this, so there is no mistake. Sweet."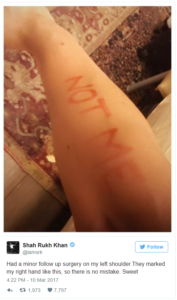 For the uninitiated, SRK injured his left shoulder while shooting for an action scene for his film Dulha Mil Gaya in the year 2007. Unfortunately, his supraspinatus (one of the rotator muscles) was damaged. This was the very first time that SRK damaged his left shoulder. A year later in 2008, Shah Rukh Khan injured the same shoulder once again while shooting for 'My Name Is Khan'. Being a professional, he didn't treat the injury immediately but waited for the shooting to get over. In the year 2013, Shah Rukh Khan again underwent a shoulder surgery after he was hurt badly while shooting for Rohit Shetty's Chennai Express. Though he treated his injury in London, he got it operated in a Mumbai hospital.
In addition to the above, Shah Rukh Khan's left knee is equally troublesome. Although he finally underwent an arthroscopic surgery of his left knee after suffering from repeated swellings and pain last year. There's still no sign of permanent relief; the reason why you also get to see him with a medical kneecap every now and then.
One the work front, SRK is currently shooting for Imtiaz Ali's untitled film which also Anushka Sharma. The movie is expected to release this year in August.