Rating: 2.5/5 Stars
Star Cast: Sonakshi Sinha, Kanan Gill, Shibani Dandekar, Purab Kohli, Manish Chaudhary, Smita Tambe
Director: Sunhil Sippy
What's Bad: The plot is inaccurate and it failed to show the field of journalism properly.
What's Good: If not a journalism based flick, then as a rom-com it would have done justice.
To Watch Or Not?: Noor is a movie targeted for young journalists. The character of Noor Roy Chaudhary is played by Sonakshi Sinha. She is 28 year old junior correspondent who works in a news agency headed by editor Shekhar Das (Manish Choudhary). Noor seems to be bored with her job and she keeps on complaining about everything in life. She wants to work on stories related to human interest but she gets sensational stories.
Noor has two best friends, Zara Patel (Shibani Dandekar), a DJ and Saad ( Kannan Gill). She is single and in search of her Mr Perfect and then one day she meets Ayan (Purab Kohli) who is an ex-war reporter. They start hanging out and eventually Noor falls for Ayan
One day Noor's maid Malti (Smita Tambe) unknowingly gives some information to Noor about her brother's ill health and then that's the turning point of the story. Noor finally finds the story she has been looking for.
Then comes many ups and downs in Noor's life and whether she is able to bounce back or not, lies ahead in the movie.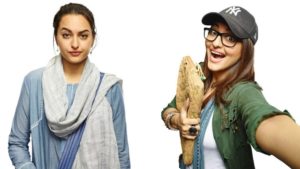 If we talk about the characters, then we must say that Sonakshi has tried really hard to do justice to her character. We can't say that this is her so far best performance but yes, a decent one.
Purab Kohli has less roles in the movie and he will be loved by his fans. Smita Tambe, who plays Noor's maid Malti lifts the story and does a great job with her performance. Kanan Gill, who makes his debut with Noor is not that impressive.
Overall, Noor is a one-time watch movie and if you are Sonakshi's fan then you should definitely not miss the movie.
Do let us know about your reviews on Noor.