News & Gossip
Trending
Manushi Chhillar Gets HARASSED Terribly By Fans, Miss World Crown Falls Off Her Head!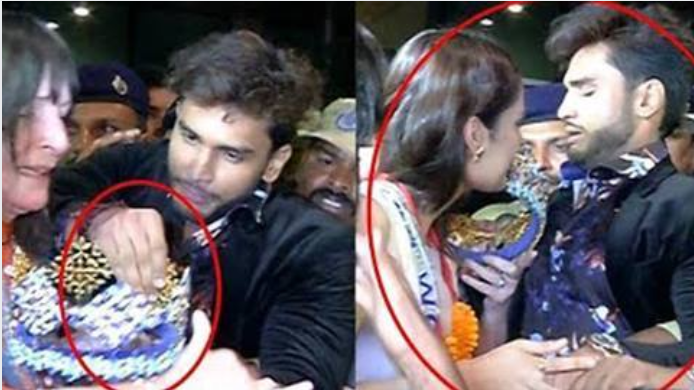 If anyone defines beauty with brains, then yes definitely it's Manushi. Miss World contest does not judge the contestant on the looks but also on different aspects of their personality. Manushi Chillar has a heart-melting reply in the question and answer round received a huge applause from the audience making her worthy to win the international pageant.
Winning the coveted title Miss World 2017, Manushi Chillar has ended 17 years of drought for India. While she has received a warm welcome from her million fans around the world, she has also been harassed by fans in Mumbai. She has been greeted at the International Airport Mumbai with fans chanting, "India, India" as they held up Indian flags and posters of Manushi." Where the posters read, "Welcome back Manushi Chhillar", "Manushi Chhillar is Beauty with Brains, Miss World 2017", fans in Mumbai has also harassed her for which her crown has fallen off.
When she was walking out of the airport, she wore a bejewelled crown, waving her fans proudly. Without any hesitation, the crowd poured on her to take pictures with her. She struggled her way out to reach her car as the paparazzi continued. The fans didn't let her go and pushed each other while her crown fell off!
Manushi Chillar hailing from Haryana has made India proud when she became the sixth Indian woman to win the Miss World title. Landing at Mumbai's International Airport nearly at 12 am, a huge welcome at the airport with her fans coming from all over the India struggling to get a selfie with the queen has led to such disaster.
Manushi felt pretty awkward and disappointed. We all hope that fans should know where to draw the line while worshiping their stars!
What are your thoughts? Put your comments in the section below. Don't forget to share the articles with your friends. Stay tuned for more news.