Only a few days left and the much-awaited movie of the year, Baahubali 2 is gonna hit the theatres. With power- packed performance of the leads, sterling visuals, action scenes, historical backdrop, this flick is for sure be a treat for the audiences.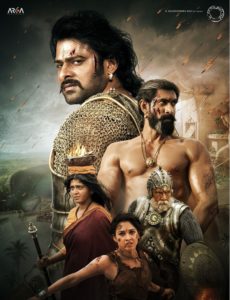 Advanced booking of this war epic has already started and if we tell you its pre-booking price, then don't be surprised. At one of the high-end theatres in Delhi, we saw tickets getting sold at Rs 2400 per person at the category of Platinum Superior.
People are not caring about the high price, rather they are curious to know the end and get the answer to the question of why Kattappa killed his own master Amarendra Baahubali. Let's have a look at the screenshots of the tickets.

If profits are to be noticed the movie has pocketed large amount even before its release by selling its theatrical distribution and music rights. Karan Johar, who will distribute the Hindi version of the movie has got an amount of Rs 120 crore, the Tamil version has got a whopping amount of Rs 47 crore, Karnataka rights got 45 crore and Kerala rights got Rs 10 crore. The Telegu rights raked in Rs 130 crore. North America rights have minted Rs 45 crore and the cost of US distribution rights are yet to be releaved.
As per trade expert Akshaye Rathi Baahubali will take the box office by storm. He said, "Baahubali 2 is going to come and sweep the box office like a Tsunami in Hindi, Tamil, Telugu and every other language. I feel that Baahubali 2 will easily make Rs 200 crore in the Hindi version alone. And if we add all the version, then it is going beyond Rs 500 crore India nett. box office collection. Rs 400 crore is sure shot, but it can potentially go past Rs 500 crore too."
What do you think about the ticket price of Baahubali 2? Do comments on the section below.