We can't take our eyes off Shama Sikander as she shares a seaside picture on social media sporting a white bikini while standing beside the love of her life. Girl, you look hot!
Shama Sikander is best remembered for her lead role in the TV series Yeh Meri Life Hai (2003-2005) and she also impressed us with her acting skills in Vikram Bhatt's web series Maaya. She took to social media to share some romantic pics of her along with James Milliron. In one of the pics she looks hot AF sporting a white bikini. Check out the pics here: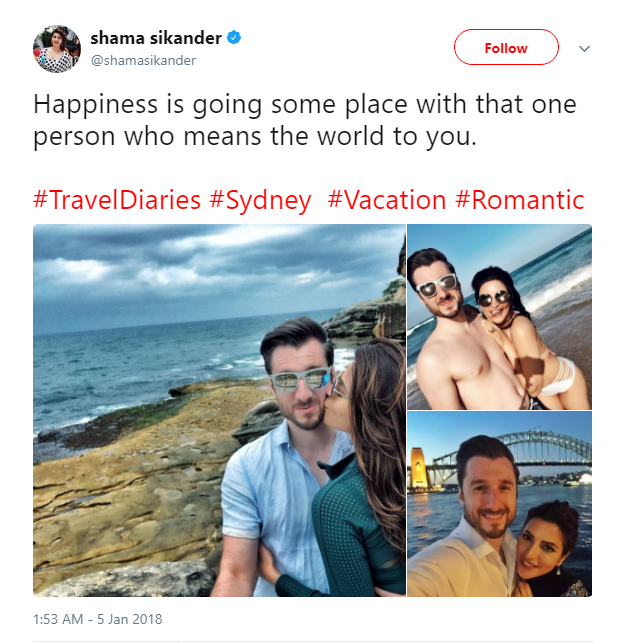 Shama captioned the post as: "Happiness is going some place with that one person who means the world to you. #TravelDiaries #Sydney #Vacation #Romantic
Not just this, Shama has been titillating her fans on social media for quite sometime now. Check it out…
https://www.instagram.com/p/BdhTAyYHByI/
She captioned the pic as: "To some it's just a tan, for me It's a time when I re-gain my sanity. Four hours of ride, absolutely no regrets!! #FigureEightPools #Sydney #TravelDiaries #StayGolden #TanTime."
A few days back she also shared pics of her in a white bikini.
https://www.instagram.com/p/BdcsQwEH2UU/
Shama had a special message attached the the pic. She captioned it as: "A woman without curves is like jeans without pockets, you don't know where to put your hands. #ManlyBeach #Curvacious #Sydney #TravelDiaries."
Shama is currently having a gala time on the beaches of Sydney, Australia.
https://www.instagram.com/p/Bdb39q3HcFz/
She captioned the pic as: "A sass a day keeps the basics away #ManlyBeach #Sydney #TravelDiaries."
Shama brought in the new year in Australia with James. She posted pics on her Instagram account. She captioned the pic as: "Take a leap of faith and begin the wondorous new year by believing. Wish each on of you a very happy and joyful year ahead. Cheers 2018!! #Sydney #TravelDiaries #HappyNewYear #Welcome2018.
https://www.instagram.com/p/BdZf6DLHtkG/
She was looking sleek and sexy in a red shiny dress.
Also, she was seen sporting denims throughout in another pic from her travels in Sydney. She captioned that pic as: "Of all the books in the world, the best stories are found between the pages of a passport. #TravelDiaries #Sydney #NewYearGoals.
https://www.instagram.com/p/BdW_BZLH9MH/
Shama is one of the biggest travel junkies that we have seen coming out from Telly world. She is constantly on the go, and that's what makers her fans love her on social media. She has amassed a huge fan following on Instagram and all can be thanked to her travelling and bikini ready figure.
Meanwhile, Shama will soon launch her own app, which will consist of fashion and beauty posts.
While talking about the venture, Shama told a section of media, "I've always loved fashion styling. It's always been my dream to be a stylist and today whatever I wear and wherever I go… that means any event, party or a red carpet, I usually style myself. There are people who ask me 'who's your stylist'. I laugh and say 'It's me'. It feels so good when someone compliments you. And I'm happy that I'm taking my dream ahead."
Shama will guide app users on budget shopping. She will also give opinion on make-up and beauty treatments.