News & Gossip
Twitter SLAMMED Shah Rukh Khan For Copying This Status, Here's Is How He Gave It BACK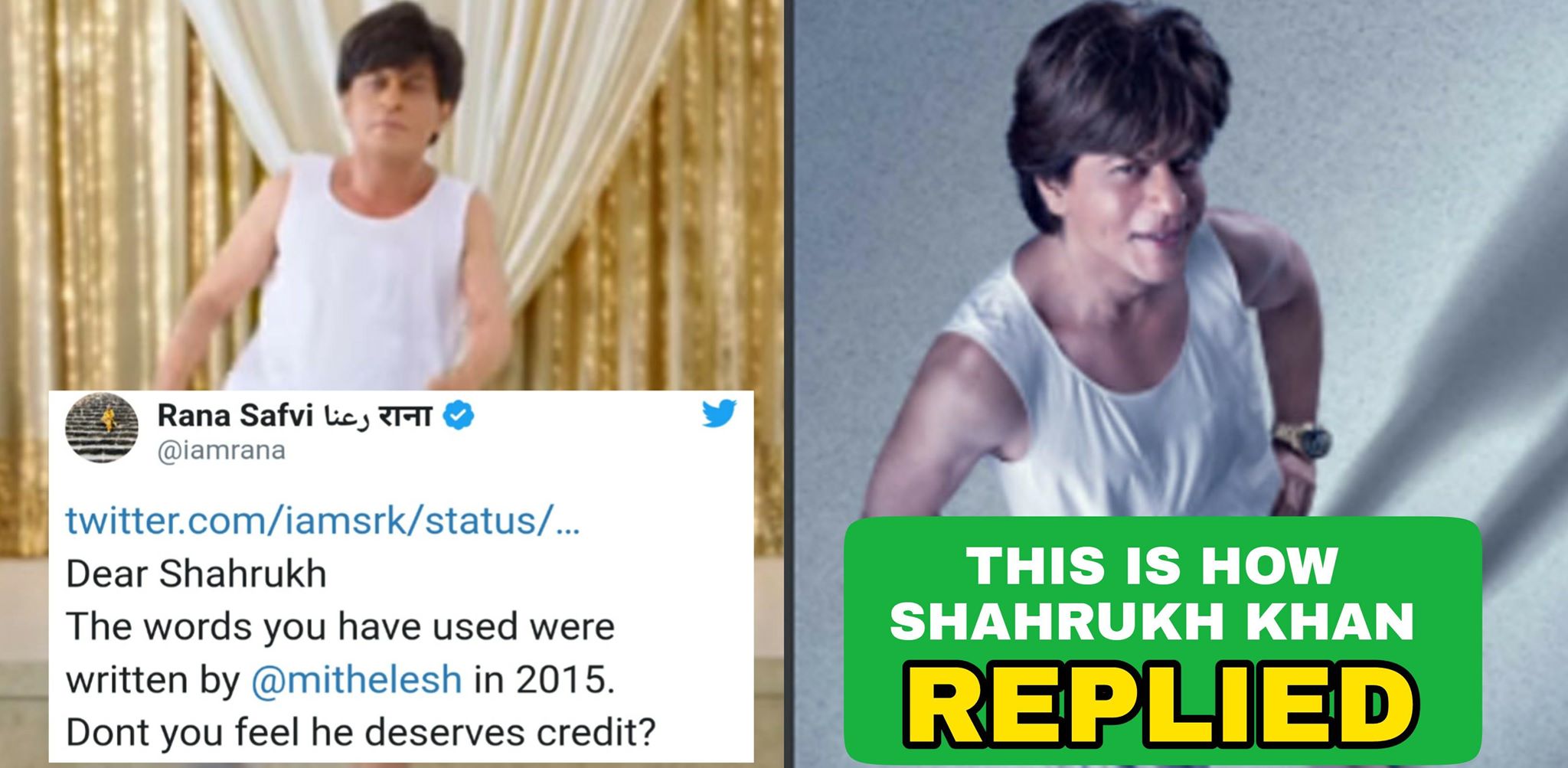 Shah Rukh Khan is unarguably one of the most popular actors in Bollywood. The actor enjoys a huge fan following all across the world. The actor makes headlines for whatever he does on or off screen. He is also known for his wit and sense of humor. Whenever he cracks a joke in his own style. If you want to get an idea of Shah Rukh witty side, you should watch his interview or Twitter Q&A.
Recently, King Khan announced the title of his upcoming film directed by Anand L. Rai with an amazing quote. While announcing the title, SRK used a quote which was later learned that it was of a Twitter user, Mithelesh Baria.
This is what SRK Tweeted:
टिकटें लिए बैठें हैं लोग मेरी ज़िंदगी की, तमाशा भी पूरा होना चाहिए!

As promised, here's the title of @aanandlrai 's film. @AnushkaSharma #KatrinaKaif @RedChilliesEnt @cypplOfficial #2ZERO18 https://t.co/V7xtLY2k5u

— Shah Rukh Khan (@iamsrk) January 1, 2018
Twitterati including SRK fans started slamming the actor for copying the quote without acknowledging the writer's work. This is how Twitter reacted:
https://t.co/4FgU6EutXZ
Dear Shahrukh
The words you have used were written by @mithelesh in 2015.
Dont you feel he deserves credit?
As an artist I'm sure you will gladly acknowledge the work of another @iamsrk pic.twitter.com/uus2OhYafX

— Rana Safvi رعنا राना (@iamrana) January 2, 2018
Dear SRK,

Above lines are so beautiful but it will appear much much beautiful when the actual writer @mithelesh #mbaria will get its due credit.
You being a great actor, art lover, humble n responsible person… We are expecting you to understand this concern.
Thank You!

— सिद्धांत | سدھانت (@Siddhant01) January 3, 2018
Without failing, Shah Rukh Khan did acknowledge the writer but in his own style. He tweeted:
बहुत बहुत धन्यवाद। आपकी किताब मिली और पढ़कर बहुत अच्छा लगा। सोशल मीडिया पर आपने साबित कर दिया की हर जगह पर अच्छी बातें ही पसंद आती हैं। और "टिक्केटें लिये…" वाली पंक्तियों के लिए भी शुक्रिया । pic.twitter.com/XFg5xhcyeK

— Shah Rukh Khan (@iamsrk) January 6, 2018
SRK thanked Mithelesh Baria in classic SRK style. He thanked him for the book as well as the lines he used while announcing the upcoming film titled 'Zero'.
This is why Shah Rukh Khan enjoys such immense fan following. You can love him, hate him, but you defiantly can't ignore him.
Kudos to King Khan!