News & Gossip
Shah Rukh calls Media Silly for thinking the Three Khans Are Rivals!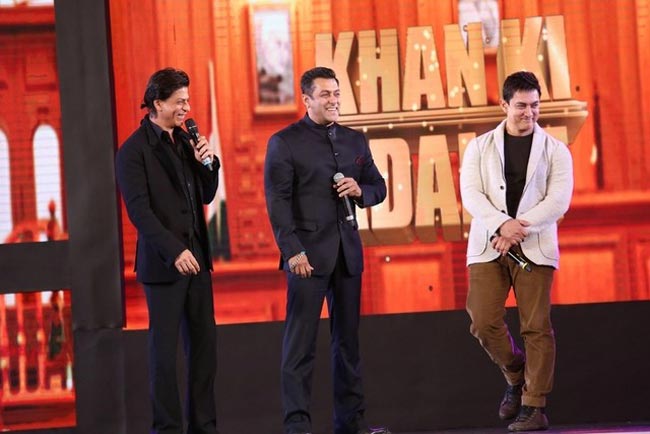 Even though Shah Rukh Khan hasn't had a release in 2015, the actor always ends up getting attention with his quirky comments. SRK is currently working on three films back to back in the form of Dilwale, Fan and Raees. While Fan and Raees are solo hero projects, Dilwale has an ensemble cast which involves Kajol, Varun Dhawan, Kriti Sanon and Varun Sharma.
The actor was once again asked about what he felt about the money Salman's Bajrangi Bhaijaan has been minting at the box office. He was also asked if he ever feels insecure about his position to which SRK said, "When do I even feel insecure? There's no time. All the time, I am either shooting, or doing my look tests, make up, shooting for my brand commitments, attending events, finishing my TV show commitments. I am working almost 17-18 hours a day. Where's the time to feel insecure?"
"If anyone feels that Aamir, Salman or Shah Rukh are bothered by what they write about us or what they number us, they are simply being silly. We are not born with numbers. People don't say you are the 1 billion 65 lakh 23 thousand forty fifth person in India. Everyone has their own individual identity. I can say this for all of us and the industry as a whole that we are not ready to be numbered by anyone," he added.
King Khan also went on to saying that he loves doing films which have multiple heroes. He said, "These are things that people have built throughout the years. I can honestly say that I had the most fun shooting for a Happy New Year. We used to dance, shoot, go out for dinners and enjoy ourselves thoroughly. What's the big deal about being in an ensemble film? It has got nothing to do with security or insecurity. I love working on a film, that's it. It does not matter if it's a solo hero film or an ensemble film. If I like the script, I will do it."
The actor, who is known for his 4 hour sleep days and workaholic nature said that he thrives under pressure.
"However arrogant or pompous it may sound, I feel the pressure keeps me going. If I don't work that much and I don't feel tired at the end of the day, I don't think I have worked enough. I don't crack under pressure, instead I thrive under it. That's one of the reasons I took up three films back-to-back. I felt I enjoyed too much during HNY, so I wanted to take on that pressure," he said.
With 'Dilwale' set to release this December, SRK will win even harder now it seems.