News & Gossip
Sehwag trolled haters for mocking KXIP to buy Chris Gayle on twitter !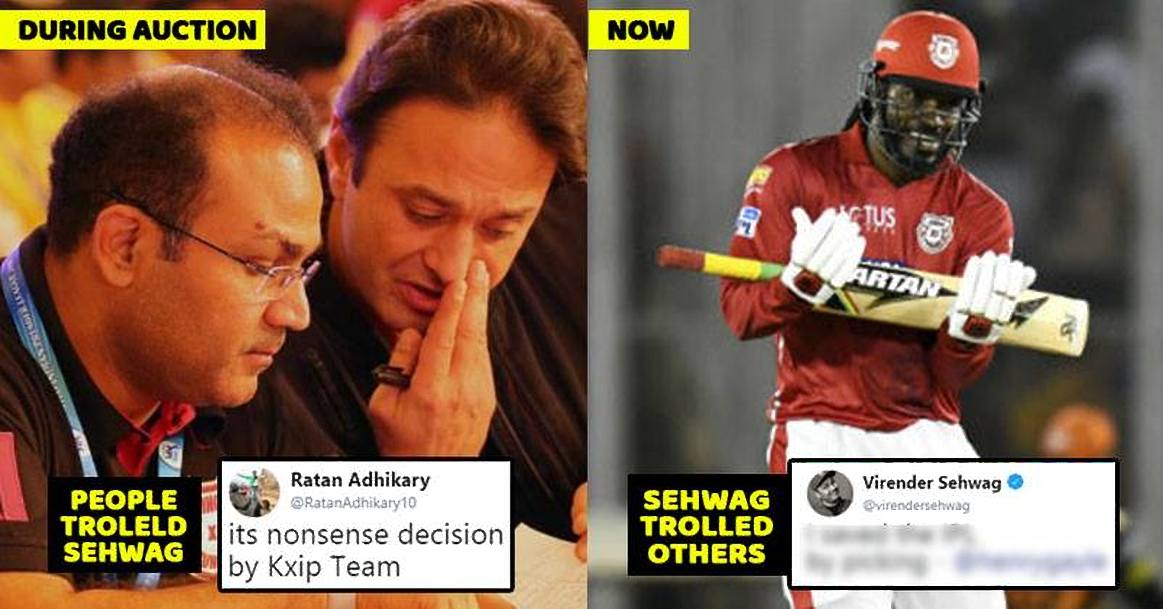 The West Indies cricketer Chris Gayle has proved his worth, credibility, caliber and mettle as a cricketer in IPL 2018 when he had taken a staggering amount of 104 runs off 63 ball deliveries only safely ensuring the third victory of KXIP in the cricket tournament.
When he had received the Man of the Match award, he expressed his thanks and gratitude towards Virender Sehwag and also had credited him for "saving the IPL". He had hit the first century of IPL 2018 at PCA Stadium in Mohali at Punjab and also had effectively just shut down the mouths of his haters and trollers by showing all of them that even at the age of 38, he's better than many young players even today.
Just to inform all of you out there that Gayle was a part of Royal Challengers Bangalore (RCB) originally from 2011 till last the year 2017. However, the team had released him this year and he remained unsold on the day one of the IPL Players auction. It was on the second day, that KXIP had purchased and bought the player Chris Gayle for Rs 2 Crore which was his base price.
Even though Gayle didn't get a chance to play in the first two matches for the team, he just nailed it with 63 runs in only 33 ball deliveries in this very recent third match of IPL 2018 that recently took place at Mohali in Punjab.
When team owner Preity and Sehwag took the decision of keeping Chris Gayle in KXIP, others had apparently mocked, criticized and trolled them for picking an aged player over young ones. Check out some tweets right here :
https://twitter.com/LittuOj/status/957775340310581249
its nonsense decision by Kxip Team

— Ratan Adhikary (@RatanAdhikary10) January 28, 2018
https://twitter.com/HasinNoComment/status/957623611078119424
However, after Chris Gayle's stunning performance in this third match at Mohali, it was the perfect and best time for Sehwag to give it back to trollers and he did it in the most epic way in his own style –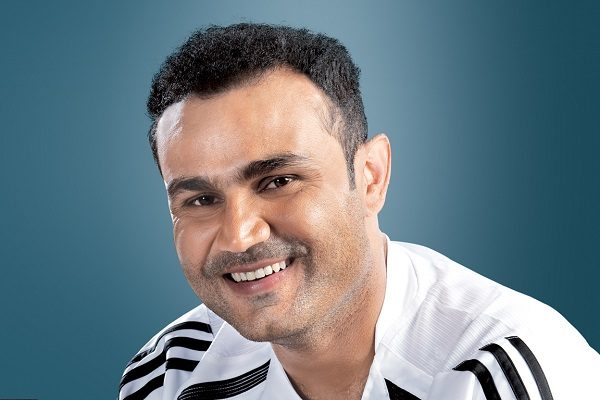 Sehwag went to Twitter and wrote, "I saved the IPL by picking – @henrygayle."
Even Chris Gayle had stated this, "I think Virender Sehwag saved the IPL by picking me (in the January auctions)."
Here's Sehwag's tweet :
https://twitter.com/virendersehwag/status/987041522825691137
— Chris Gayle (@henrygayle) April 19, 2018
If you don't Then you don't
Love me at Deserve me at
my my pic.twitter.com/lGQFHyimR0

— Virender Sehwag (@virendersehwag) April 19, 2018
Viru made one more tweet to praise and appreciate Chris Gayle and it read, "Live ko highlights bana de , aise hain Universe Boss , @henrygayle . Yet another absolutely brilliant innings!".
Live ko highlights bana de , aise hain Universe Boss , @henrygayle . Yet another absolutely brilliant innings !#KXIPvSRH

— Virender Sehwag (@virendersehwag) April 19, 2018
This was his 21st century in the T20 cricket on Thursday. But KXIP Cricketer Chris Gayle has made it clear to his critics that there is still a lot of cricket that's remaining in him. However, yes he agrees that he needs to work on his fitness if he wants to play all the remaining matches for KXIP, taking it into consideration the fact that it is really very hot right now at Punjab in this time of the year.