News & Gossip
See How Sania Mirza Reacted When Twitter Compared Alia ' s Character In Raazi To Sania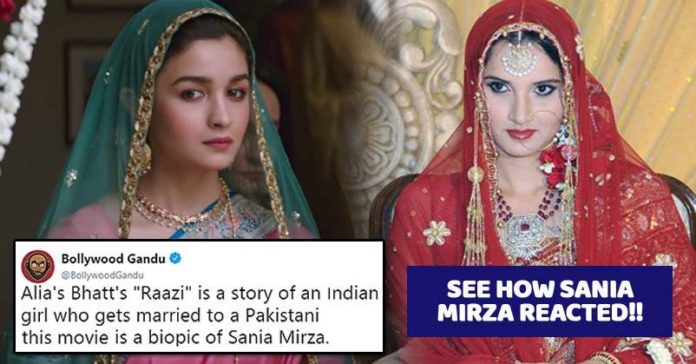 Alia Bhatt's character- Sehmat in her upcoming film 'Raazi' is getting compared to Indian tennis player Sania Mirza. It all started when a Twitter handle wrote, "Alia's Bhatt's "Raazi" is a story of an Indian girl who gets married to a Pakistani man but she still works for India. Basically, this movie is a biopic of Sania Mirza. #RaaziTrailer"
The one who haven't watched the trailer of 'Raazi' yet, here is a brief: In 'Raazi', Alia is playing three different shades- an obedient daughter, a wife and a Indian spy. We still wonder what made people cook up such story. Neither Alia is essaying the character of Tennis player in the film nor Sania is an Indian spy.
Check out the tweet:
https://twitter.com/BollywoodGandu/status/983573277690953728
When Sania Mirza noticed this tweet, she appeared to be quite surprised and wrote, "Ummm.. I think not 
"
Here's her tweet:
https://twitter.com/MirzaSania/status/983606483156742144
See how people reacted over this whole fiasco:
When you give exams without even going through the syllabus.

— Raj (@Drunken_Gunner) April 10, 2018
Why r u spreading nonsense..alia is not playing tennis in movie & sania mirza isnt a spy.. watch ur words before u tweet

— RustedSoul (@juhisoni4) April 10, 2018
https://twitter.com/MessyFr3ak/status/983717988929949696
https://twitter.com/arunankit46/status/983573712480886784
[Also see:Â 
Sri Reddy Now LEAKS Whatsapp Chat With A Filmmaker And It's Not What You Expect !!
]
Very childish joke. Fit only for 10yr olds. Like: Q) which phones do prisoners use? A) cell-phones!!! #Bollywood #jokes

— paritosh mishra (@paritosh2020) April 10, 2018
Alia bhatt's character is a spy who is dodging her husband sania g is not betraying her husband for sure she is great example of a woman who is loyal to her husband and her country India @MirzaSania

— Maham Khan (@mahamjamilkhan) April 10, 2018
On work front, Alia will be next seen in 'Gully Boy' opposite Ranveer Singh. Directed by Meghna Gulzar and produced by Vineet Jain, Karan Johar, Hiroo Yash Johar and Apoorva Mehta under the banner of Dharma Productions, Raazi is scheduled to release on 11 May 2018.
[Also see:Â 
Arjun Kapoor slams a website for its derogatory remarks on Janhvi Kapoor
]
What you wanna comment over this? comment your views below and stay tuned with us for more latest news and gossips.