News & Gossip
Sara Ali Khan looks like young Karisma Kapoor in Simmba song Aankh Marey, says Rohit Shetty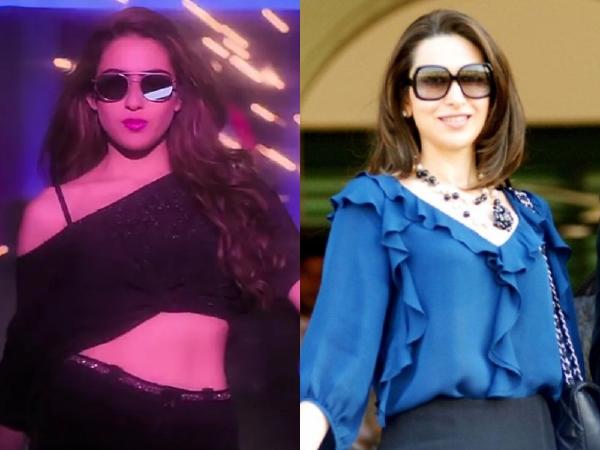 Rohit Shetty, who is gearing up for the release of his upcoming movie Simmba, starring Ranveer Singh and Sara Ali Khan, has much to reveal about his leading lady Sara! In a conversation at an event, promoting the movie, Rohit Shetty said he feels Sara Ali Khan looks like young Karishma Kapoor in the song Aankh Marey!
https://www.instagram.com/p/Br199fnhMza/
Talking about Sara Ali Khan and the controversy about Kedarnath and Simmba, Rohit Shetty says, "No, I always wanted Kedarnath to come first. When Kedarnath didn't revive and we started shooting Simmba, Sara used to always ask me that will I put her name as launching or introducing her. I told her that ethically it would be wrong because that credit should always be Gattu's (Abhishek Kapoor). I am very happy that Kedarnath came first.
https://www.instagram.com/p/BruyAwjhdJr/
But Sara approached me herself. She sent so many messages that I got pakaoed (laughs). Kedarnath was also coming up and if I made a film, I would complete it in four months and we will come before Kedarnath, which would be wrong. Next day Gattu called me suggesting that I take Sara. So Sara happened because of Gattu. He took the initiative that I come and watch Kedarnath to see if she suits the character. Next day, I called Sara.
https://www.instagram.com/p/BrjpjeVBeP7/
Sara is a superstar. She is full commercial like how a Hindi film heroine has to be. I always tell her that she was very lucky that she has catered to the Kedarnath audience and now also the Simmba audience. You can see that she looks like young Karisma in 'Aankh Maare'. That energy of commercial film heroine is there in her. I just went with my conviction to cast her. "
Stay tuned for more updates!