News & Gossip
Sanju Public Reviews Is Out: They Called It A Masterpiece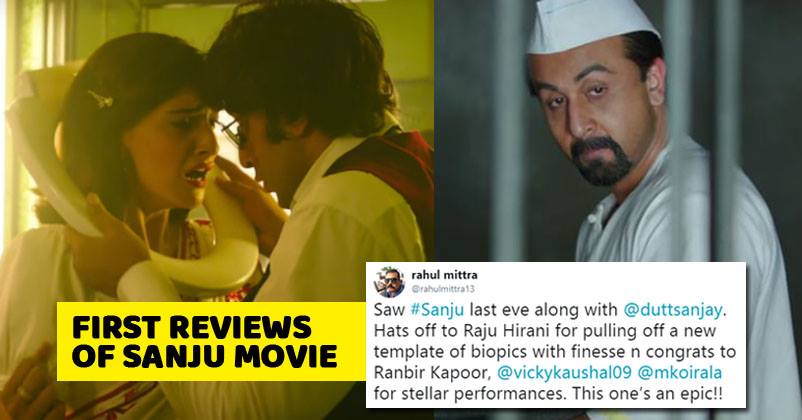 Amidst all the anticipation and excitement, Ranbir Kapoor starrer Sanjay Dutt's biopic Sanju got released today i.e. June 29, 2018. Acclaimed director Rajkumar Hirani has once again created magic on the big screen. After all, he is inarguably the best Bollywood director working with movies like Munna Bhai series, 3 Idiots, and PK.  All the movies directed by Hirani has been blockbusters. Sanju is no different.
Sanju has received huge appreciation ever since the trailer of the movie was released. Now, the first reactions of the film are out, which is also excellent. The audience is calling this film the best Bollywood film of the year.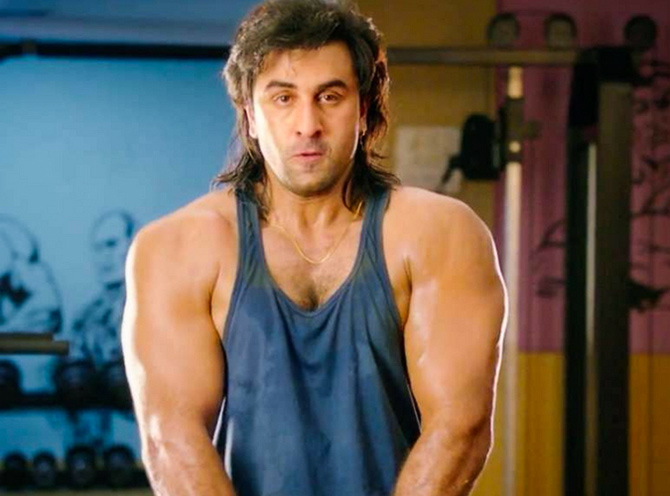 People who have watched the movie can't stop praising the film. They are calling it a masterpiece. They took to Twitter to share their reactions after watching Sanjay Dutt's biopic. Ranbir Kapoor and Rajkumar Hirani have come up with an epic film, which is looking to earn lots of money at the box office. Check out some of the reactions down below.
Wht a movie! Ranbir as Sanju is Sanju! Wht a film what a performance! I am speechless @duttsanjay #ranbir#sanju#rajkumarhirani

— Bunty S Walia (@bunty_walia) June 27, 2018
https://twitter.com/iamDivyaKhosla/status/1012238908829196288
https://twitter.com/ishaAgrawal786/status/1012245661268443136
Saw #Sanju last eve along with @duttsanjay. Hats off to Raju Hirani for pulling off a new template of biopics with finesse n congrats to Ranbir Kapoor, @vickykaushal09 @mkoirala for stellar performances. This one's an epic!!

— rahul mittra (@rahulmittra13) June 28, 2018
https://twitter.com/SumitkadeI/status/1012036013579952128
Best Wishes to @RajkumarHirani for Superb Movie #Sanju , Superb Performed By #RanbirKapoor and Cast , The True and Amazing Portrayal Of @duttsanjay is commendable , A Must Watch on 29June . " Baba Bolta Hai " @SirPareshRawal ji was all time best and respect to " Dutt Sahab " pic.twitter.com/LxeeSTgfDl

— Mohit Bharatiya (@mohitbharatiya_) June 27, 2018
Saw the most awaited film #Sanju last night. What a film. It takes you to a journey of laughter,tears, joy,melody,human relations. @RajkumarHirani excels once again. #RanbirKapoor s performance is outstanding & so are all other actors. SUPER HIT. pic.twitter.com/t8j4QHaxWD

— RAJ BANSAL (@rajbansal9) June 28, 2018
#Sanju: mind-blowing film! Memorable performance by @vickykaushal09 as Kamli, @SirPareshRawal as Sunil Dutt. Movie belongs to #RanbirKapoor, an award-winning performance! 5 min into movie you forget it's not @duttsanjay! WOW! @RajkumarHirani proves again why he is best director! pic.twitter.com/guYsEaqmOr

— Rishi Darda (@rishidarda) June 27, 2018
Other than Ranbir Kapoor, Sanju also features Paresh Rawal, Sonam Kapoor, Manisha Koirala, Vicky Kaushal, Karishma Tanna and Dia Mirza among others.
Have you watched the film? If yes, then share your experience in the comment section down below. Stay tuned to this space for all the latest Bollywood updates.