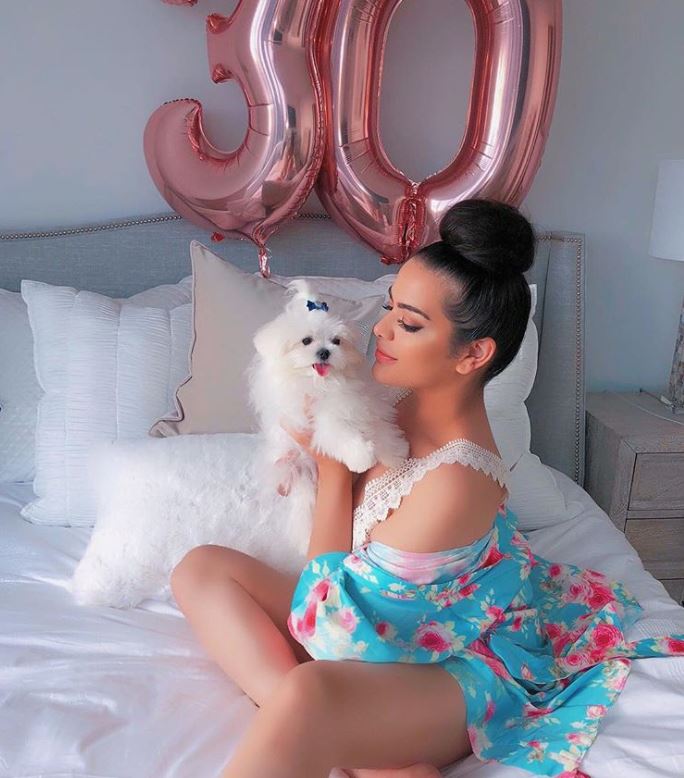 Sanjay Dutt's adorable daughter Trishala Dutt has turned 30 today and on the occasion of this special day, she posted a cute picture of hers with her little puppy. She captioned the picture as: "#30 🎂☀️ — thank you God for blessing me with life, for making me the happiest I've ever been, and for keeping me alive, happy, and most importantly, healthy. Thank you everyone for all your love, sweet comments, thoughtful texts, & phone calls that made my day so special. Thank you IG fam 💕 for loving & supporting my family & I since day 1. I appreciate all of you more than you know. Today feels amazing, I can't wait to celebrate later, and I can't wait to create beautiful new memories in this next chapter of my life 🎈will upload more pics and get back to you all in a bit 🙏🏻— btw for those wondering, this is WolfGang! 🐶 he's a teacup Maltese, weighs 2.5lbs (1.17kgs), and was born in Korea! He licks my tears, senses all my emotions, manages my anxiety, and has the sweetest little soul that gives me unconditional love on a daily basis…a true angel. #teamleo#flirtythirtyandthriving #0810."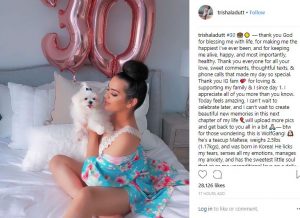 Trishala always keeps her fans updated with her lifestyle. On this birthday post, comments started pouring in from her Instagram fans. Out of all comments, Manyata Dutt's comment caught our attention. Manyatta is her stepmom and Sanjay's second wife. She loves Trishala as she loves her two kids. She posted a heartfelt comment for Trishala. She wrote: "Happy Happy my darling!!! Wishing you the choicest blessings my love."
Here's the screenshot of Manyata's comment.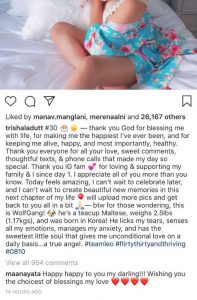 Trishala lives in the U.S with her grandparents. A few days ago she posted a picture of her late mother and captioned it as "happy birthday mama 🌸 #RIP." She shares her Birthday week with her mom.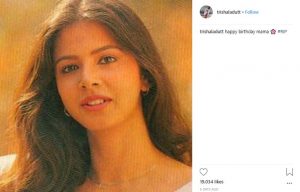 From the team of Filmymantra, we wish Trishala a very Happy Birthday!