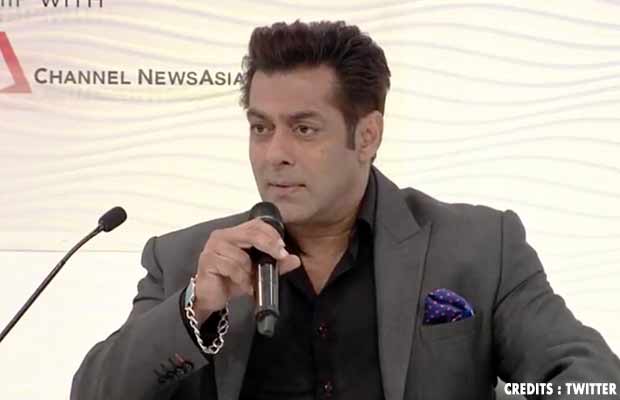 The Bolywood Superstar Salman Khan has commented on one of the most controversial topics, Nepotism. Without a doubt, Nepotism has become one of the controversial and hottest topics of the year in Bollywood, courtesy Kangana Ranaut. Well, Yes! the people of the world know it has become the hottest topic of debate after Kangana has marked Karan Johar as flag bearer of nepotism on the show, Koffee with Karan. Since then, every actor of Bollywood has been asked about Nepotism. Recently, to speak for the longest time about this is none other than Salman Khan.
At the Hindustan Times Leadership Summit 2017, Salman Khan started the conversation on a very interesting note. He said in a hoarse voice, "I don't know why I am here." While the long conversation where Salman Khan has answered several questions, he expressed his opinion about Nepotism.
While about the debate over an industry, Salman replied, "I got to know the meaning of it only after Kangana talked about nepotism. ("Ab jaake nepotism ka matlab pata chala jab Kangana ne nepotism ke baare mein baat ki hai."
Speaking about supporting actors who are from a film background, Salman said, "I believe that joh successful hota hai who talent management company ko kaam deta hai. A manager cannot get a successful person or work but management can get those people, persistent hoke, who are not doing well for themselves. They can get work for those people. But it only depends on how hardworking, how focused that management company is. So most of the time they want to sign big stars, which is a good thing but then with that, they need to concentrate on the people who have potential, who are really good but are seeing a bad run for whatever reason."
To this, he further added, "They judge on two flop films and think how can we invest so much many of them. They forget their talent. So this is what I want to do…If the person is talented, they should be given films. I have worked with so many talented actresses, actors, newcomers who have done well at one point but after that their career diminished. Still lot of people in the industry do that. But the cost of production has become so high, that nobody wants to risk it. So, this is what we are trying to do."
The actor gave an example referring to his film, 'Jai Ho.' He said that there are several talented characters in the movie who were also very popular. However, few people on the social media have commented that where from Salman has got such actors has honestly hurt me. It's difficult to make people understand that every film doesn't work.
What do you think about Nepotism? Put your comments in the section below. Don't forget to share the articles with your friends. Stay tuned for more updated news.