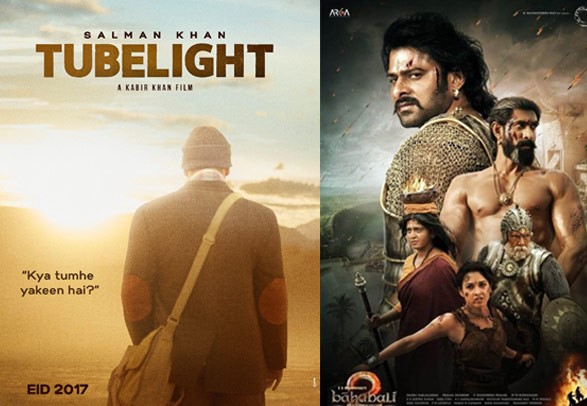 Salman Khan's Tubelight and Prabhas' Baahubali have huge fan followers worldwide. Both the movies are already creating buzz  with the release of its posters and trailers. And reportedly, Tubelight's teaser is to be attached with Baahubali 2 Hindi version.

Baahubali 2 is releasing on 28th April while Tubelight will be releasing in May. There are lots of expectation from both the movies and we have just made an estimation that together, they can make a collection of nearly Rs 800 crores!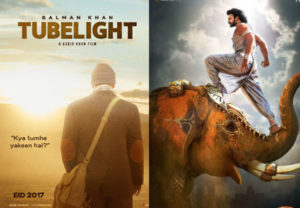 As per trade expert Akshaye Rathi Baahubali will take the box office by storm. He said, "Baahubali 2 is going to come and sweep the box office like a Tsunami in Hindi, Tamil, Telugu and every other language. I feel that Baahubali 2 will easily make Rs 200 crore in the Hindi version alone. And if we add all the version, then it is going beyond Rs 500 crore India nett. box office collection. Rs 400 crore is sure shot, but it can potentially go past Rs 500 crore too."
When asked about Tubelight's poster, he said that the film has the capability to earn Rs. 300 crore easily because of the hit combination of Salman and Kabir Khan.
If profits are to be noticed then both the films have put a fair section of its investment in their pockets even before its release. By selling the theatrical distribution, satellite and music rights, Tubelight has already made Rs. 227 crore. Baahubali 2 has earned Rs 500 crore in its distribution and theatrical rights. The movie will release in Telugu, Tamil and Hindi and for each of its version, distributors have paid a record price. Trade Analyst, Ramesh Bala has given the figures. Karan Johar, who will distribute the Hindi version has got an amount of Rs 120 crore, the Tamil version has got a whopping amount of Rs 47 crore, Karnataka rights got 45 crore and Kerala rights got Rs 10 crore. The Telegu rights raked in Rs 130 crore. North America rights have minted Rs 45 crore and the cost of US distribution rights are yet to be releaved. The makers have also pocketed large amount through its satellite rights.
No matter how much the makers earn at the box office but we are sure that both the movies will surely woo the audiences.