News & Gossip
Salman Khan Ignores Arjun Kapoor At Sonam ' s Reception, Watch Video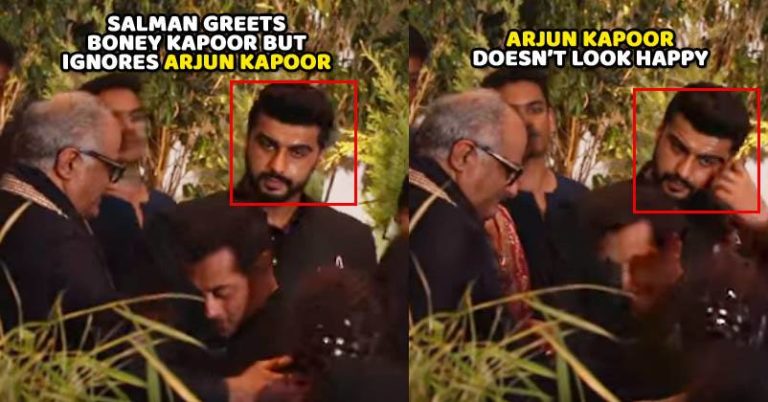 Salman Khan is one superstar, who never forgives someone if he/she steps on the wrong side. We all know his relationship with Vivek Oberoi. However, Salman Khan's relationship with Arjun Kapoor is making lots of headlines for pretty long time. Initially, they were very close. In fact, Salman was the one who encouraged Arjun to lose weight and get in Bollywood. But, they are not on good terms nowadays. Their cold was pretty visible during Sonam Kapoor and Anand Ahuja's wedding reception.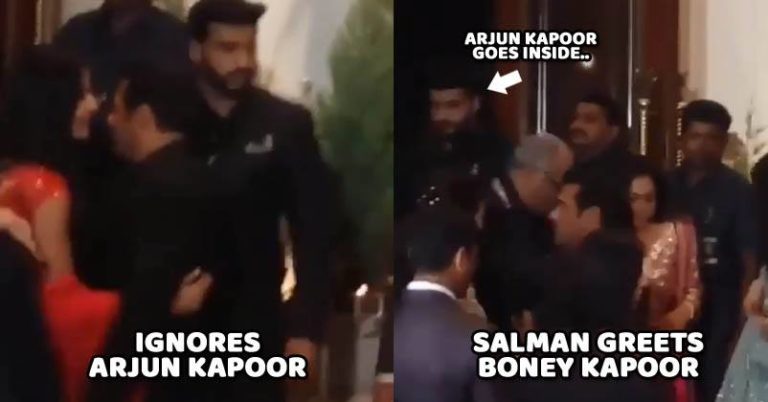 Currently, a video is going viral on the social media and the internet. The video is the proof suggesting that everything is not well between Arjun and Salman. Salman made a grand entry with Jacqueline Fernandez to the Sonam's reception venue. There, he met Katrina Kaif and went on to greet Boney Kapoor.
Boney Kapoor also greeted Salman by giving him a kiss on the forehead. For your information, Boney Kapoor and Salman Khan are very close friends. It was Salman who helped Boney by working in No Entry when he was facing a huge financial crisis. He did the movie without taking any fee.
However, what caught our attention is Salman's reaction to Arjun Kapoor. Arjun was standing very close to Salman, but Bhai went past him. Arjun also went inside pretty soon after looking here and there. The video clearly shows that both of them were trying their best to avoid any awkward situation.
Watch The Video:
https://www.youtube.com/watch?v=-2Vk3YtXR4M
According to the various reports, Salman's relation with Arjun turned ugly due to Arjun's alleged affair with Malaika Arora. When Salman got to know about it, he called Arjun and talked to him. Sultan actor actually holds Arjun responsible for Arbaaz and Malaika's divorce. Â According to the reports, Arjun Kapoor wants to improve his relationship with Salman. But this video clearly says a totally different story.
Share your thoughts in the comment section down below. Stay tuned to Filmymantra.com for more Bollywood juicy gossips.