News & Gossip
Ronaldo CELEBRATED His Goal By Stroking His Chin Multiple Times, Twitter Gave Epic Reason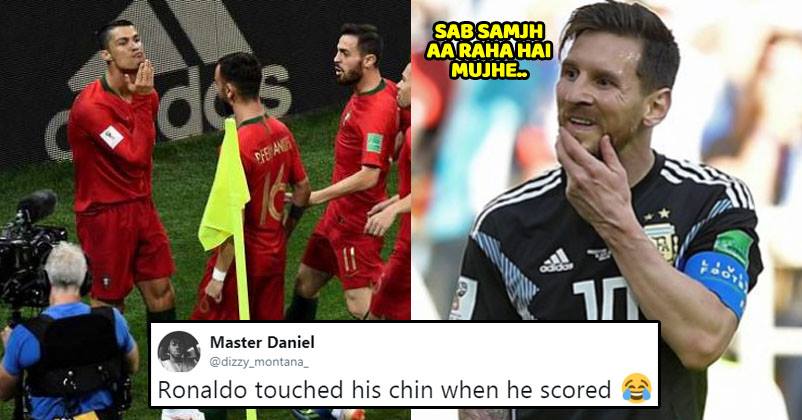 FIFA World Cup fever has taken all over the world. People are currently busy supporting and cheering for their favourite team. Last night, Portugal played Spain at Fisht Olympic stadium, which ended in 3-3 draw. Star player Cristiano Ronaldo scored a hat-trick enthralling the spectators.
Watch The Video From The Last Match
OBRIGADOOOOO Here's that video again… @cristiano hat-trick and glorious free-kick equaliser WITH THE RIGHT COMMENTARY! pic.twitter.com/zMu5OfwBMg

— Neal Collins (@nealcol) June 16, 2018
Ronaldo is one of the greatest football players in the world if not the greatest. However, his world cup performances have been pretty unpredictable. However, FIFA World Cup 2018 seems to be a totally different game altogether.
Ronaldo scored three goals yesterday, however, everyone is talking about his celebration after the first goal. After doing his classic celebration, he stroked his chin multiple times. His fans are convinced that he is declaring himself as GOAT (Greatest Of All Time).
We wonder what Lionel Messi has to say about this?
Manchester United boss Jose Mourinho seemed to be smitten by Ronaldo's epic performance. Talking about the Portuguese star footballer, he said to Russia Today,
"He has this little touch, this little extra feeling, and the goal is fantastic. He knew it was the last chance and that's what I really admire. There are players for some matches, there are players for every matches and there are players for special matches."
As always, Twitter is having lots of fun with Ronaldo's news celebration. Check out some of the reactions down below.
https://twitter.com/ImVarun_Gowda/status/1007866171561930753
https://twitter.com/ATEEKSTER/status/1007717425394147328
https://twitter.com/Campistability/status/1007819979503423488
https://twitter.com/P9Pranav/status/1007700405755637760
There reason Ronaldo rubbed his chin to celebrate his first goal was because he is growing a goatee as per the G.O.A.T.

— ADEBOYE (@ren_high_sense) June 16, 2018
https://twitter.com/seb_scully/status/1007686932439224320
https://twitter.com/katleho_ndebele/status/1008049290407800833
https://twitter.com/dizzy_montana_/status/1007714447568396288
https://twitter.com/MLarky24/status/1008013990167900161
https://twitter.com/JamesSwin/status/1007921362793574400
Who is your favourite Messi or Ronaldo? Tell us your thoughts in the comment section down below. Stay tuned for more viral stories.