News & Gossip
Raveena Tandon Gets Trolled For Her Tweet Against Mumbai Pollution And Govt., Gives It Back In Her Own Style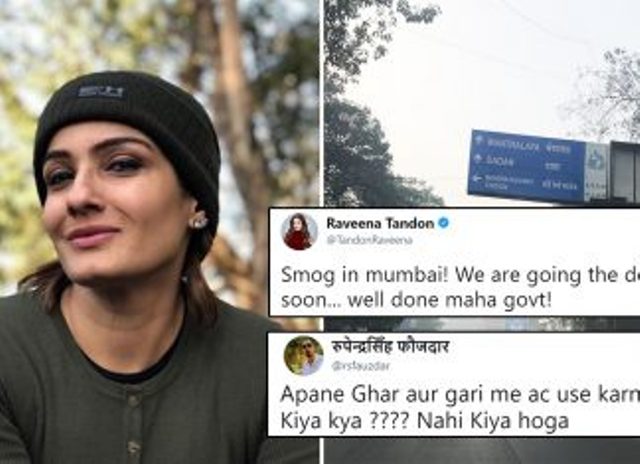 Social media has become part of everyone's life. People spend time on several social media platforms to have some fun or connect with their friends. However, celebrities use social media to connect with their fans. Those celebs try pretty hard to become the target of trolls. But, there are some stars, who don't give a damm about the trolls or hater. One such celebrity is veteran actress Raveena Tandon.
Similar to the characters portrayed by the actress on big screen, the actress has a no-nonsense attitude in personal life. She can't tolerate someone taking her for granted. The 43-year old give back to the trolls in epic fashion. Scroll down to know why we are saying this.
It all started when Raveena Tandon expressed her concern about the growing condition of smog in Mumbai. The actress took to Twitter to talk about the pollution of the city.
Smog in mumbai! We are going the delhi way soon… well done maha govt! Maharashtra has lost max forest cover in past 3 years! And now Aarey Forest Soon! Welcome to pollution Hell! pic.twitter.com/iWplbcr4Rm

— Raveena Tandon (@TandonRaveena) January 4, 2018
Well said, right!
It was a pretty sensible comment made by the actress, but this was more than enough to get trolled. We wonder how active their haters are on social media. They keep looking for chances to attack stars.
This is how Twitter reacted:
@TandonRaveena stop using ur vehicles it will be great help for the nature,travel by trains/buses https://t.co/R7BmwpbsAy

— Tejas salvi (@tejassalvi08) January 4, 2018
Raveena gave her back by tweeting this:
Even if we stop using all cars , it will not restore the damage done by deforestation you fool. Don't be ignorant. I cycle all short distances ! What do you do ? Stop using what you have to and start walking . https://t.co/CHQXKXXGEc

— Raveena Tandon (@TandonRaveena) January 4, 2018
If you think it was enough, you are in for a surprise. The twitter users gave some advice to the actress on how to talk. This is what he said:
@TandonRaveena "fool" really atleast have the decency to talk.
Car causes CO2 levels which are thr root cause of air pollution.
Please refer EVS textbook 4th standard chapter no 5 https://t.co/NOZeg4bfeU

— Tejas salvi (@tejassalvi08) January 4, 2018
Then Raveena came up with the ultimate reply:

The root cause of global warming all over the world number one is deforestation. When were you born son , don't give me text book references. Solve the basic problem first and then control cars.set a law no more than a car per family, like SINGAPORE https://t.co/bO3ehdGJGz

— Raveena Tandon (@TandonRaveena) January 4, 2018
Don't go anywhere. There are some more.
Apane Ghar aur gari me ac use karna band Kiya kya ???? Nahi Kiya hoga

— RUPENDRA SINGH (@rsfauzdar) January 4, 2018

Can you guess what happened when someone called her crybaby? Scroll down to know:
Crybaby celebrities alway will be Passimist. Be Optimist and plant some trees.spend time on awareness of pollution control and stop using those Air conditioners. Goverment can not do everything unless people participate. You guys are all good at pointing fingers on others

— Tushar Laddha (@tusharladdha) January 4, 2018
The amount of work I have done for the environment, you idiot while you never even lifted a finger . Try save what you have , the amount of trees I have single handedly planted you won't even be able to count. https://t.co/Ff4QYOF5ae

— Raveena Tandon (@TandonRaveena) January 4, 2018
After lots of chaos, the actress ended the topic with a positive note saying this:
https://twitter.com/TandonRaveena/status/948775435944452097
Tell us your thoughts in the comment section down below. Respect for Raveena!