News & Gossip
Ranveer Singh's New Look For Padmavati Is Breaking The Internet, Twitter Went Crazy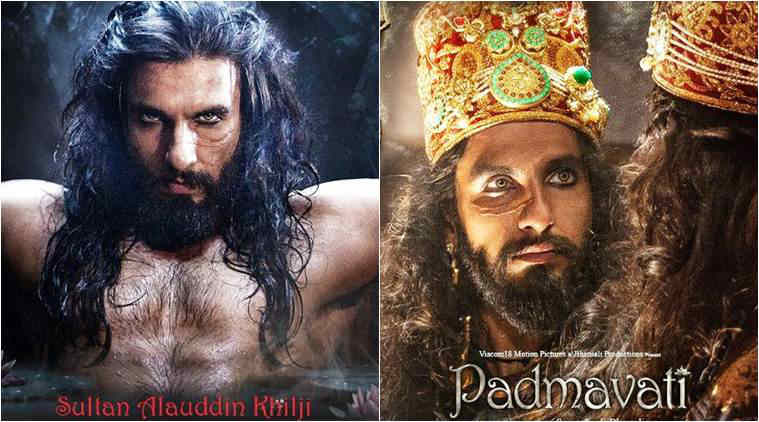 Padmavati is literally one of the most anticipated Bollywood films of 2017. The movie has been creating lots of buzz among moviegoers. Sanjay Leela Bhansali is known for making grand and extravagant films. People wait for his films very eagerly. His films always feature gripping and intriguing stories along with awesome characters.
Bhansali likes to make grand and lavish films. But it seems that Bhansali is looking to create new benchmarks with his upcoming film Padmavati. The makers have already released the poster of all three main casts.
The makers of Padmavati released the first poster of Deepika's character a while back. Deepika Padukone is playing Rani Padmini in the film. Her poster looks amazing in every way.
https://www.instagram.com/p/BZSMRO7hzJd/
Later they launched poster of Sahid Kapoor's character. Shahid is playing Deepika's husband Rawal Ratan Singh in the film.
https://www.instagram.com/p/BZcgO2XAAd2/
But it seems like makers were holding the best for last. Finally, we have been given the opportunity to witness Ranveer Singh's look in the film. Ranveer is playing Sultan Alauddin Khilji in the period drama. After seeing the look of Alauddin Khilji, internet broke down. People are loving every bit of the poster, whether it is fierce eyes or the scars just below his right eyes or the messy hairs. The first poster of Ranveer Singh as Alauddin Khilji has grabbed everyone's attention.
SULTAN ALAUDDIN KHILJI #Khilji pic.twitter.com/DNtht5bHcQ

— Ranveer Singh (@RanveerOfficial) October 2, 2017
The poster is so fierce that it creates lots of curiosity for the films. Ranveer Singh has a huge fan base in the country and the actor never fails to disappoint his loyal fans. This once again looks spectacular.
With this fiery look, Ranveer Singh has even managed to grab the eyeballs of few Non-SLB fans. The curiosity for Padmavati is now increasing as the days go by. We are looking forward to the trailer. It looks like the trailer will break the internet altogether.
SULTAN ALAUDDIN KHILJI #Khilji pic.twitter.com/Ls2IznAq1c

— Ranveer Singh (@RanveerOfficial) October 2, 2017
Ranveer has taken the bad guys to a whole different level, look in his eyes it is filled with lust and obsession.
The poster of Padmavati has created lots of excitement among social media users.
Twitter was all praise for the Sultan Alauddin Khilji. Check out some of the most exciting Tweets about Ranveer Singh's look.
https://twitter.com/mehdi_nisar1/status/915053631958794241
Told you @RanveerOfficial was going to totally break the internet with his #Khilji posters! This is next level stuff Rambo! @FilmPadmavati pic.twitter.com/0fEyc7TXD3

— Rahul Nanda (@rahulnanda86) October 2, 2017
https://twitter.com/Taimur2210/status/915055723595300864
The menace in the eyes!! Ranveer You Have the Fabulous Art of Projection!! Can not wait for this Film!! #Khilji

— Aneeta (@AneetaRadoja) October 2, 2017
https://twitter.com/girishjohar/status/915085700671922176
Absolutely terrific! Here's an actor not shying from taking big risks. @RanveerOfficial #Khilji #Padmavati pic.twitter.com/8Y0Mvdlfj5

— Rahul Gangwani (@Itemboi) October 3, 2017
KHAL DROGO GOT NOTHING ON YOU.
Mmmm, mm.

— Sucharita Tyagi (@Su4ita) October 3, 2017
https://twitter.com/iJaideep_/status/915069257469255680
Padmavati is an upcoming Bollywood period drama film directed by acclaimed director Sanjay Leela Bhansali. The movie is produced by SLB and Viacom 18 Motion Pictures. Deepika Padukone played the titular role of Rani Padmini alongside Shahid Kapoor, Ranveer Singh, and Aditi Rao Hydari. The movie is scheduled to release on 1st December 2017.