News & Gossip
Ranveer Singh is surprised that Sara Ali Khan is not nervous about Simmba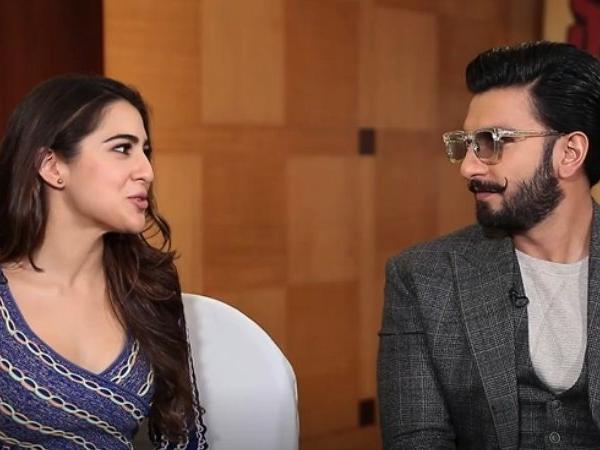 Rohit Shetty's movie Simmba, starring Ranveer Singh  and Sara Ali Khan in the titular role, finally hit the screens on Friday. The movie has Karan Johar in the production end and the movie has clearly received overwhelming response at the box-office. If trade experts are to be believed, the film may have made around Rs 20 crore-Rs 21 crore on its opening day in the cinemas. The movie is already on the verge of becoming a big hit and here's what Sara and Ranveer Singh discuss about their movie! This is Sara Ali Khan's second movie in Bollywood and Ranveer Singh is surprised to know that Sara was not nervous about Simmba!
https://www.instagram.com/p/Br7aoEChr3T/?utm_source=ig_embed
In a media interaction, while in conversation with a leading media house, Sara Ali Khan said she was not nervous about Simmba and Ranveer Singh was totally blank on hearing that from an actress who has just done her second film in the Bollywood Industry! Sara Ali Khan said, "I am excited but not nervous this time!" To which, a surprised Ranveer Singh interrupted, looked at her and asked, 'You are not nervous? Have you become a veteran, thespian?' And Sara was quick to reason saying, "No, it's because of you(looking at Ranveer) that I am not nervous", as she added, "After seeing the kind of work Ranveer has done in the film, there's no reason to be nervous. I am actually feeling proud that I got a chance to be a part of this film. So more than being nervous, my state of mind is only between feeling proud and excited."
Stay tuned for more updates!