Bollywood
Randeep Hooda & Virender Sehwag ROASTED For Trolling Gurmehar Kaur!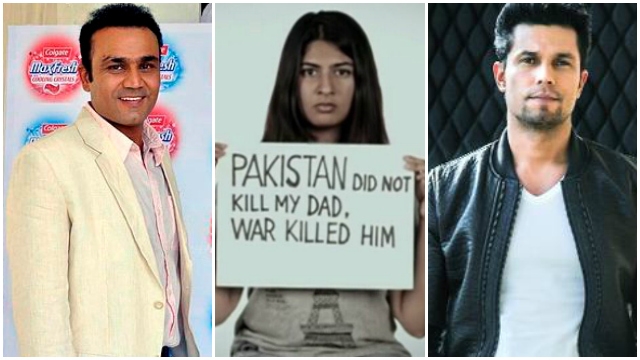 Delhi University student Gurmehar Kaur could probably not have anticipated rape threats for taking a peaceful political stand against the violence unleashed at Delhi's Ramjas college on 22 February. Nor could she have predicted that two prominent Indian celebrities, including a much-loved cricketing icon, would enable the systematic hate she has been facing on Twitter for the past few days. Welcome to the Sexist Twitter. Would you like your misogyny with a side of patronizing drivel?
Kaur recently started a campaign against Akhil Bharatiya Vidyarthi Parishad (ABVP), alleged to have attacked the students of Ramjas during a planned march from the college on 22 Feb to demand action against the vandalism by the RSS-backed group a day earlier. Kaur changed her Facebook profile picture to one holding a placard that read, "I am a student from Delhi University. I am not afraid of ABVP. I am not alone. Every student of India is with me. #StudentsAgainstABVP."
Understandably, students soon started rallying behind Kaur, using the hashtag to regroup and reorganise against violence. A year ago, Kaur had posted a video on Facebook in her attempt to build peace between India and Pakistan. The video is being shared again after her DU tweet. In the video, Kaur is also seen holding up a sign that reads 'Pakistan did not kill my dad, war did'. Kaur's father, Captain Mandeep Singh, was killed in the 1999 Kargil war. Kaur's Pakistan sign had a complete opposite effect online among a bevy of ultra-nationalists for whom the neighbouring state is a pressure point to trigger trolling.
Trolls descended on her timeline to tweet abuses and criticize her for her stand against violence in the subcontinent. What most did not highlight, is that she held more than one signboard. This is what the other placards read:
Not surprising that "nationalists" mock @mehartweets for one pic out of an entire series. Their vision as always is limited by their hate. pic.twitter.com/SCzRL76Jf7

— SamSays (@samjawed65) February 26, 2017
The DU student claimed she started receiving "rape threats". In an interview with a leading news channel, she said,
"I have been getting a lot of threats on social media. I think it is very scary when people threaten you with violence or with rape."
She added,
"Threatening with rape in the name of nationalism is not right."
She was called an 'anti-national' and told that her father would be embarrassed of her if he was alive.
Don't want my nationalism to be taught to me by some local goons #studentsagainstabvp #fightbackdu

— Gurmehar Kaur (@mehartweets) February 25, 2017
My father would've been more than proud of me. Just btw. 🙂 20 year old speaking up for the rights of her fellow students? VERY PROUD

— Gurmehar Kaur (@mehartweets) February 25, 2017
This is slightly hypocritical, considering how Twitter nationalists jump to defend the army at every chance they get, during other discourse. After India launched surgical strikes against Pakistan, any criticism of the army would trigger incessant trolling by those who hold the armed forces above accountability.
However, what added to Kaur's troubles, was this tweet from Virender Sehwag, considered to be one of the greatest cricketers of our time.
Bat me hai Dum !#BharatJaisiJagahNahi pic.twitter.com/BNaO1LBHLH

— Virender Sehwag (@virendersehwag) February 26, 2017
And Bollywood actor Randeep Hooda who decided to applaud Sehwag.
https://twitter.com/RandeepHooda/status/835889479411867650
As is often the case on Twitter, the celebrity endorsement of the hate that Kaur was facing, encouraged more abuse. When people called them out, Hooda didn't stop but went on to defend Sehwag's tweet with more tasteless tweets. Hooda proceeded to claim, in staggeringly patronizing tweets, that Kaur was a 'poor girl' being used as a front for a political message.
@virendersehwag what's sad is that the poor girl is being used as political pawn and it seems you are a party to it ..

— Randeep Hooda (@RandeepHooda) February 26, 2017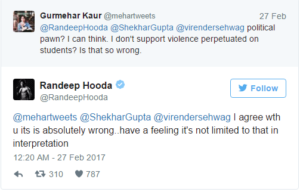 https://twitter.com/RandeepHooda/status/835929857519296512?ref_src=twsrc%5Etfw
At a time when Hollywood stars are speaking out against the establishment — Jimmy Kimmel took on the American President for his racist rants on Twitter in his Oscars Opening Monologue — Indian celebrities, including politicians, sports stars and actors are getting together to harass a 20-year-old woman for expressing a contrarian opinion.
But Kaur, who was accused of "using" her father's death in Kargil for online brownie points, and accused of being a political plant, had this simple message pinned on her social feed.
Don't call me a Martyrs daughter if that bothers you. I never claimed anything otherwise. You can call me Gurmehar.

— Gurmehar Kaur (@mehartweets) February 26, 2017
Heed. Do you think threatening and trolling a 20 year old in the disguise of nationalism is fair?