News & Gossip
Ranbir Kapoor is 'Bigshot' in Commentary Box; Says Anushka is a Good Bowler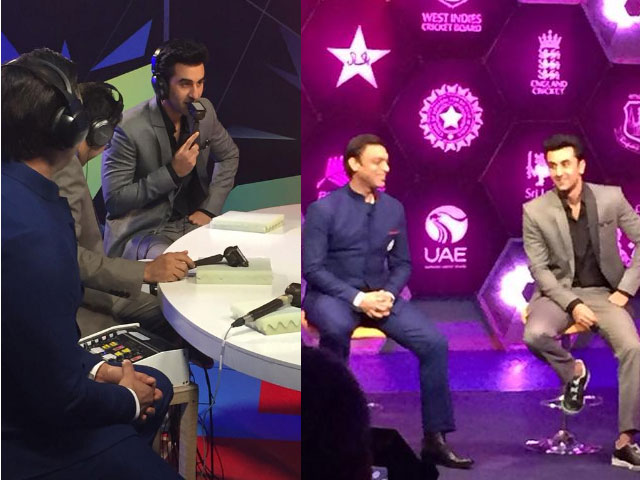 Ranbir Kapoor is 'Bigshot' in Commentary Box; Says Anushka is a Good Bowler
THE FIRST TRAILER OF BOMBAY VELVET, IN WHICH RANBIR PLAYS A CAGE-FIGHTER NAMED 'BIGSHOT' JOHNNY BALRAJ, WAS RELEASED AS THE MATCH PROGRESSED
Actor Ranbir Kapoor is believed to be keeping his appearances in aid of publicity for new film Bombay Velvet to a minimum, but he's hasn't put this into practice yet. Ranbir, who returns in a lead role a whole year-and-half after 2013's Besharam, was spotted in the commentary box at today's World Cup knockout match between India and Bangladesh. (Also Read: Bombay Velvet Trailer: Time Travel with Anushka Sharma, Ranbir Kapoor)
The first trailer of Bombay Velvet, in which Ranbir plays a cage-fighter named 'Bigshot' Johnny Balraj, was released as the match progressed.
Keeping the actor company in the box were former cricketers Shoaib Akhtar and Akash Chopra.
Pakistani bowling legend Shoaib Akhtar professed himself a fan of Ranbir's work, saying, "Main bahut bada fan hoon, admirer hoon Ranbir Kapoor ka."
While on air, Ranbir named Mahendra Singh Dhoni as his favourite cricketer and revealed his Bombay Velvet co-star (and Virat Kohli's girlfriend) Anushka Sharma is a good bowler with medium spin.
Ranbir is not the first actor to have made a commentary box appearance – Amitabh Bachchan opened the innings for Bollywood at the India-Pakistan match last month, as part of promotions for his film Shamitabh.
Bombay Velvet, directed by Anurag Kashyap and also starring filmmaker Karan Johar as the villain, is a period piece set in the Mumbai of the Sixties and releases on May 15.