News & Gossip
Priyanka Chopra's mother Madhu Chopra REVEALS the reason why Siddharth called off his wedding with Ishita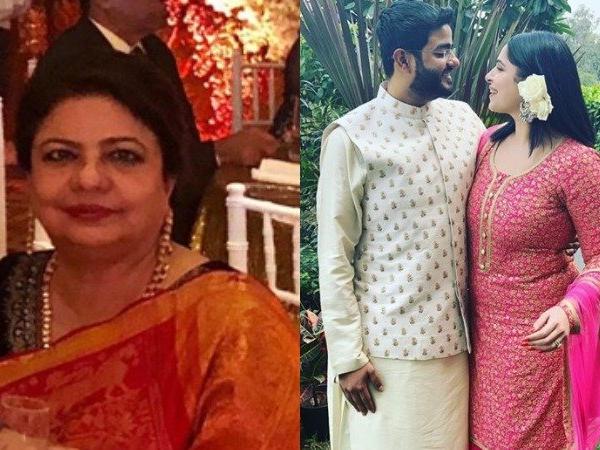 Its been only a few months that Priyanka Chopra and Nick Jonas have got married and we get to hear the latest news of a fresh new wedding in the Chopra house! Yes you read it right! Priyanka Chopra's Brother, Siddharth Chopra is all set to get married with Ishita Kumar! Priyanka Chopra and Nick Jonas had come back to India to attend the roka ceremony of Priyanka Chopra's Brother and the lady has also flown back to mumbai to make sure of the wedding preparations! But, the latest that we hear is that the wedding has just got postponed due to an emergency! There seems a few more troubles lined up before the wedding apart from the original reason of postponing it! Here's Madhu Chopra revealing why Siddharth Chopra called his wedding with Ishita Kumar off!
https://www.instagram.com/p/BuYgeBPH7BB/?utm_source=ig_embed
A few months ago, Priyanka Chopra's brother Siddharth Chopra's Roka Ceremony Pictures with Ishita Kumar had been making rounds! It was heard that the duo shall get married in May 2019! Although it is May 2019, there were no wedding bells ringing in and the reason for the same was given as Ishita Kumar had to undergo an emergency surgery and henceforth the wedding was said to have been postponed! But the next event that followed was that Ishita Kumar deleted the Roka Pictures from her Instagram! Although Priyanka Chopra and Madhu Chopra had still kept the pictures over their social media, it wasn't clear if there was a problem in the wedding! But recently, Madhu Chopra has revealed that Siddharth Chopra has called off his wedding with Ishita Kumar!
https://www.instagram.com/p/BwF19eYFMuT/
While in her earlier statement with a leading media house, Madhu Chopra had only confirmed that the wedding is not happening anymore stating. "They (Siddharth and Ishita) have mutually called it off," she now decided to further elaborate her statement with Spotboye saying, "My son Siddharth said he was not ready for marriage yet. He explained he needed more time."
Stay tuned for more updates!