News & Gossip
Priyanka Chopra responds to Hina Khan's heartfelt post, says 'proud of what you've achieved'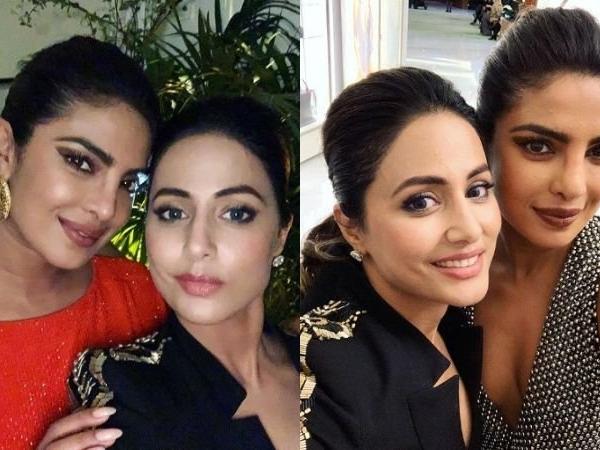 Hina Khan! One of the most popular names in the Television Industry has made her way to the Cannes Film Festival 2019 and this truly is a moment of glory for the entire Tellywood Fraternity! Her journey begun with Yeh Rishta Kya Kehlata Hai which she continued for 8 long years following which she participated and emerged as a finalist in two most popular reality shows on Indian Television, Bigg Boss and Khatron ke Khiladi! Known for experimenting with herself, Hina Khan then ventured into certain Modelling Projects and a short film as well! With her debut movie being launched soon, Lines, Hina Khan currently is in news for taking the risk for playing the Lead Negative Role in the very popular television drama, Kausautii Zindagii Kay 2! She recently has taken a break from her role Komolika for a movie commitment of hers! What adds more glory to the lady's career is being invited at Cannes 2019! Hina Khan's debut at Cannes 2019 surely made big headlines! At the French Riveria, the actress met Priyanka Chopra, who introduced her as a star from the Industry to all the outsiders! Being touched with such a gesture of Priyanka Chopra, Hina Khan wrote a heartfelt post for Priyanka Chopra and here's Priyanka Chopra responding to the post!
https://www.instagram.com/p/BxxuYNbn6xm/
Hina Khan wrote, " An unexpected invitation by a world star.. personally, after I gained consciousness and prepared myself to finally make it, I was still an outsider but only until you arrived. You didn't need to, but still never left my hand for a second, introduced me to the people I probably wouldn't have met and I felt as if all the achievements of my little career happening in fast forward as you present me as a star to each one of them. You somehow know everything ..as you mentioned my debut film and praised me for my hard work and appreciated me for the risks I have taken in my choices. Yes, I have taken risks and I am still taking them, whatever I almost have everything in my television career ..position, power, money everything. But someone has to start somewhere I believe. I always wanted to break the stereotypes and prove it to the world that television actors have it all.," Hina wrote.
https://www.instagram.com/p/BxqQDjuHAET/?utm_source=ig_embed
"Give us the opportunity our fair share and we will kill it.Not easy at all I know.. But ya I will keep trying keep working hard and make it possible.. I REPEAT TELEVISION HAS IT ALL.. Talent, Glamour, Elegance, Beauty, Grace, Right attitude, and Professionalism. I am taking baby steps, And I will keep doing that no matter how much criticism one has to face and I will make my own place I promise.. we will face it and win over it as long as we are together. Heartfelt Gratitude to each one of you for standing by me WE HAVE IT ALL GUYS… With my first debut film called LINES, I am trying hard very hard to erase the lines created between talents and mediums"
Responding to this, Priyanka Chopra commented: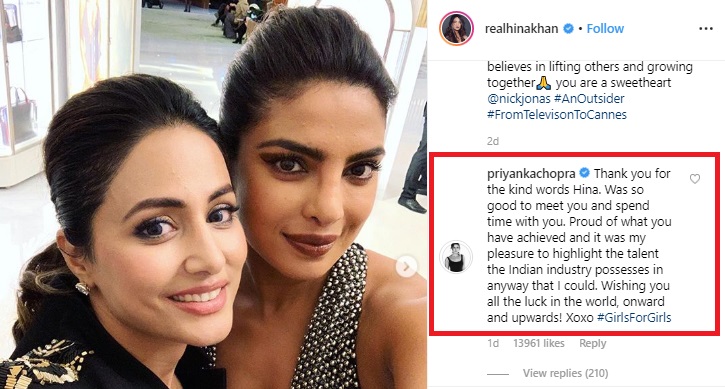 Stay tuned for more updates!