News & Gossip
Priyanka Chopra Got Bashed For Fireworks Display At Her Wedding, Twitter Called Her Hypocrite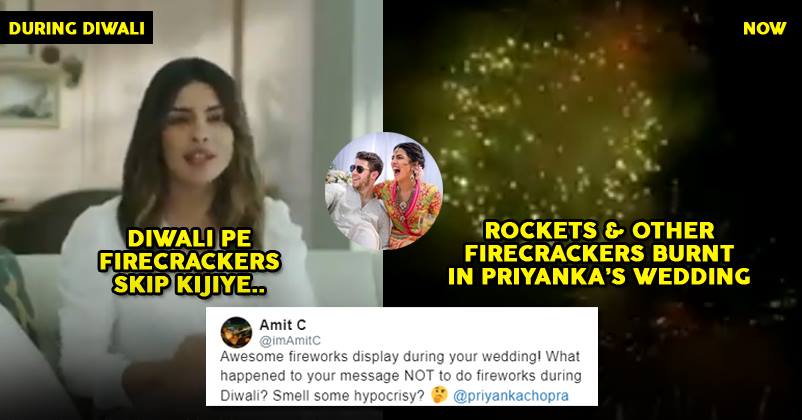 Priyanka Chopra got hitched to her boyfriend American singer Nick Jonas in an intimate yet dreamy wedding ceremony in Jodhpur attended by close friends and family members. The wedding was a big fat wedding but details about the same are still kept secret.
Despite so much secrecy, Nick-Priyanka wedding has been one of the most talked about topics in entertainment media all across the globe. One thing that caught everyone's attention was the firecrackers show that took place at the Umaid Bhavan Hotel, Jodhpur late in the evening. The video of the fireworks went viral in no time. Most of the big media outlets used the photos and videos of the firecrackers show to cover Nick Jonas and Priyanka Chopra Wedding.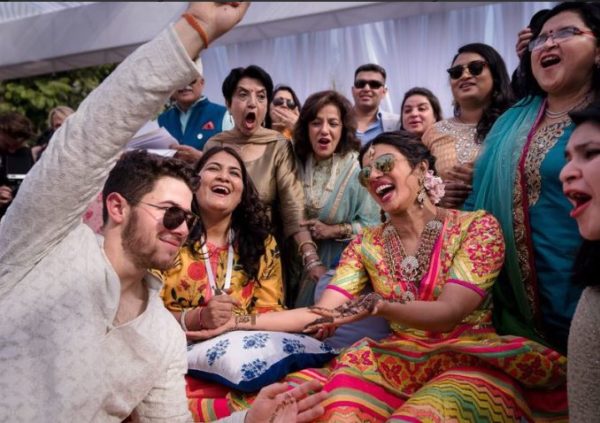 However, Priyanka Chopra has landed herself in trouble for the spectacular fireworks display. Many people took to Twitter to slam the actress calling her hypocrite. People are furious over PeeCee because she was one of the celebrities who asked her followers to celebrate cracker free Diwali but she did the opposite when it came to her wedding.
If you have not seen it, you can watch the video where Priyanka can be seen urging her fans to celebrate cracker free Diwali for the safety of asthma patients like her. The second half of the video shows firecrackers being burst at her own wedding.
Guys pls don't burn firecrackers, Priyanka Chopra is asthmatic pic.twitter.com/PJOry2HldG

— Amit Kumar (@AMIT_GUJJU) December 1, 2018
It was obvious that people would remind Priyanka Chopra of her statement when she had such firecrackers shows on her special day. Check out how Twitter reacted to the same:
1
https://twitter.com/yatharthpurohit/status/1068897768733782016
2
She's got inhaler.

— देवसेना (@MissSingh16) December 1, 2018
3
https://twitter.com/hemashanbhagr/status/1069104613075243009
4
https://twitter.com/rd_ostwal/status/1068972293232021504
5
https://twitter.com/ToshinaVerma/status/1069145028495204352
6
https://twitter.com/iKumarRahul/status/1069200500753612800
7
केवल दीवाली पर जो पटाखे चलते हैं वही प्रदूषण फैलाते हैं। प्रियंका जी की शादी में तो बस
'फोग'
चल रहा था।

— Pradeep Saboo (@pradeep_saboo) December 2, 2018
8
https://twitter.com/Little_tempest/status/1069272890414063623
9
https://twitter.com/drparitoshbhatt/status/1068969388294922240
10
https://twitter.com/niraj491985/status/1068910266648190976
11
I don't understand people criticising fireworks for causing pollution and alleged double standard by these celebs. Perhaps those vilifying this haven't read the NASA report based on Newton's fourth law that firecrackers are responsible for pollution only on Diwali https://t.co/hUGfekIj4k

— Ra_Bies 2.0 (@Ra_Bies) December 1, 2018
12
So what? It's our festival. Looking at your logic, even diwali is just for 3 days but this weedings happens 365 days. Priyanka is celebrity & many admire her..so they should be very careful else they mess up with their own statement. If not diwali,then no crackers on weedings too

— Abhishek Bhattar (@ABHISHKBHATTAR) December 1, 2018
13
What happened to 8-10 pm deadline? Somebody ask Justice Sikri https://t.co/mZaH5VehFu

— iMac_too (@iMac_too) December 1, 2018
14
https://twitter.com/Archana071114/status/1068955400920166400
What do you think? Do you also think Priyanka Chopra is a hypocrite? Tell us your thoughts in the comment section down below.