News & Gossip
Pre-wedding celebrations begin! Soon-to-be bride Deepika Padukone looks radiant during Puja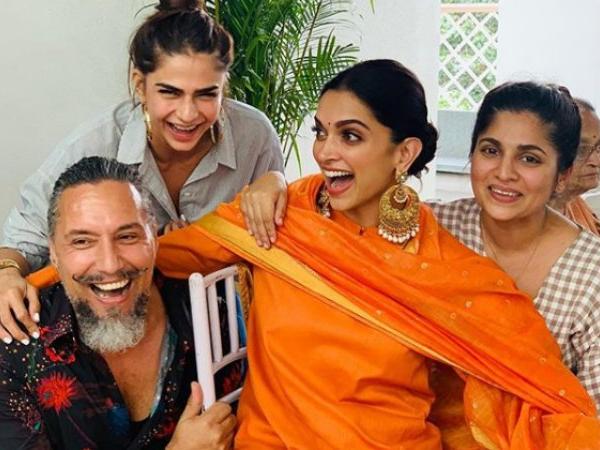 The Bollywood has been taken by a storm ever since Deepika Padukone and Ranveer Singh have officially announced their wedding date! The people are rejoicing over this news and congratulating the couple! While the couple is to get married in Italy on 14th November and 15th November, the festivities are expected to last for 4 days! Although their wedding is going to be a close affair with only family and close friends being the attendees, the festivities of their wedding in India have already begun and we simple cannot keep calm! A picture from a Puja is been surfacing over the Internet and Deepika Padukone looks absolutely radiant and beautiful!
https://www.instagram.com/p/Bpqxqh8Hpbg/?utm_source=ig_embed
Deepika Padukone Ranveer Singh Wedding festivities have finally begun. Deepika Padukone and Ranveer Singh who to are set to tie the knot in a few days, have already started off with traditions and customs of the wedding extravaganza. Photos from her puja ceremony from her parent's house in Bangalore have been surfaced on the internet and she looks radiant.
https://www.instagram.com/p/Bpq_2efhVPi/?utm_source=ig_embed
A pre-wedding Puja took place at Deepika Padukone residence in Bangalore and Deepika Padukone looks ravishing in an Orange beautiful Outfit by SabyaSachi! On Instagram, designer Sabyasachi wrote, "Dear Deepika, A new and exciting journey has just begun for you and all of us at Sabyasachi wish you the very best. Always. Deepika Padukone @deepikapadukone in Sabyasachi for her pre-wedding functions."
https://www.instagram.com/p/Bpq4H-wBZM3/?utm_source=ig_embed
More updates coming up! Stay tuned for more updates!