Breaking News
News
PM Modi Tweets To Famous Personalities,Urges Them To Ensure That Everyone Votes In Upcoming Elections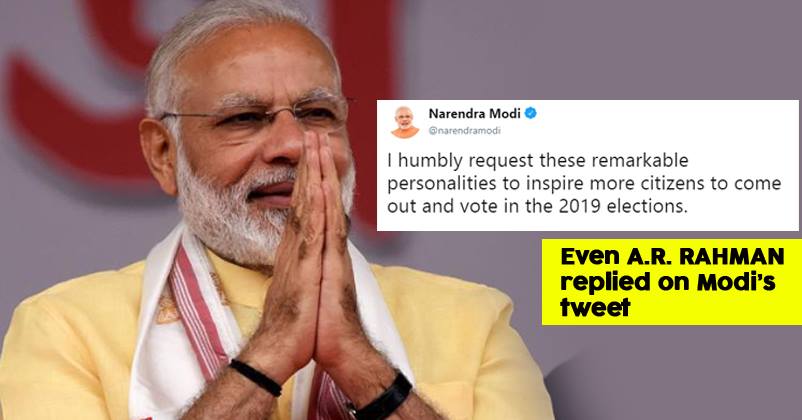 Narendra Modi, the Prime Minister of 900 million Indian Voters, has taken the lead to invite people in the political. As the dates for the general elections were announced last Sunday and since then political parties are observing model code of conduct.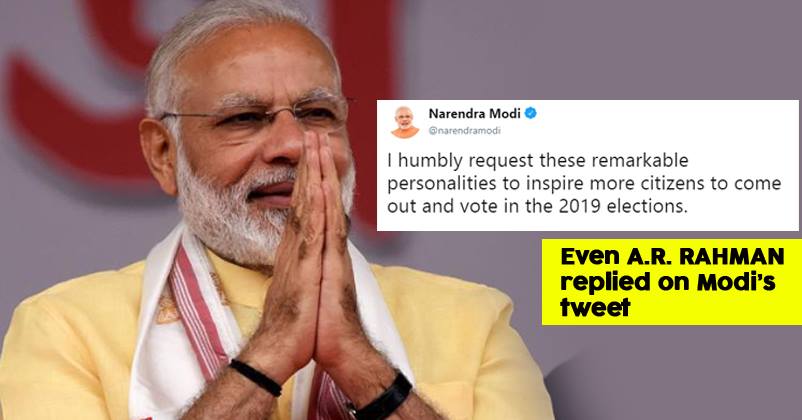 PM Modi who is a member of Lok sabha for Varanasi, has urged the people to strengthen the democracy in India. PM took to twitter and tagged influential people, including the congress president Rahul Gandhi, and asked them to extend the appeal to their followers.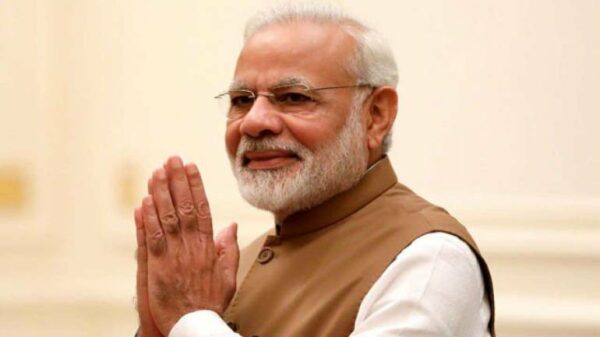 He said "Voting is among our prime duties… Would you want a situation where something happens in the country that you disapprove of and you are forced to think – because I did not go vote that day, this unfortunate situation has arisen and the nation is suffering.'
He even tagged various influencers from various fields and social institutions, urging them to encourage every other person to come out and vote. He even tagged his political opponents like Rahul Gandhi, Mamta Banerjee, Akhilesh Yadav, Mayawati, Naveen Patnaik, KCR, Chandrababu Naidu and others.
Here are some of the tweets shared by PM Modi:
I appeal to @RahulGandhi, @MamataOfficial, @PawarSpeaks, @Mayawati, @yadavakhilesh, @yadavtejashwi and @mkstalin to encourage increased voter participation in the upcoming Lok Sabha polls. A high turnout augurs well for our democratic fabric.

— Narendra Modi (@narendramodi) March 13, 2019
I call upon KCR Garu, @Naveen_Odisha, @hd_kumaraswamy, @ncbn and @ysjagan to work towards bringing maximum Indians to the polling booths in the upcoming elections. May voter awareness efforts be strengthened across the length and breadth of India.

— Narendra Modi (@narendramodi) March 13, 2019
Dear @NitishKumar, @irvpaswan and @pawanchamling5, soliciting your support and active participation in improving voting across the country in the coming elections.

Let us strive to create an atmosphere where maximum voting can take place.

— Narendra Modi (@narendramodi) March 13, 2019
Dear @HarsimratBadal_ , @ichiragpaswan and @AUThackeray, increasing awareness among the youth on the importance of voting is a paramount task in front of us.

Urging you to do your best to ensure high public participation in the upcoming elections.

— Narendra Modi (@narendramodi) March 13, 2019
Dear @Mohanlal and @iamnagarjuna,

Your performances have entertained millions over the years and you have also won many awards. I request you to create greater voter awareness and urge people to vote in large numbers.

The award here is, a vibrant democracy.

— Narendra Modi (@narendramodi) March 13, 2019
Dear @k_satyarthi, @thekiranbedi and @sudarsansand,

A vote gives voice to people's aspirations.

As widely respected personalities, your efforts towards increasing voter awareness will strengthen India's democracy.

I request you to lend your voice for the same.

— Narendra Modi (@narendramodi) March 13, 2019
Dear @SriSri ji, @SadhguruJV ji, @yogrishiramdev ji and Sri M,

Spiritual leaders like you inspire many through words and work.

I request you to also inspire people towards greater democratic participation.

Please encourage greater voter awareness.

— Narendra Modi (@narendramodi) March 13, 2019
India is proud of @Neeraj_chopra1, @DuttYogi and @WrestlerSushil.
However, they made India win because they participated. I request Neeraj, Yogeshwar and Sushil to encourage people to participate in the elections and vote so that India wins here too!

— Narendra Modi (@narendramodi) March 13, 2019
Dear @srikidambi, @Pvsindhu1 & @NSaina,

The core of badminton is the court and the core of democracy is the vote.

Just like you smash records, do also inspire a record-breaking voter turnout. I request you to increase voter awareness & motivate youth to vote in large numbers.

— Narendra Modi (@narendramodi) March 13, 2019
Dear @RNTata2000, @anandmahindra and @ashishchauhan,

India wins when our democracy gets strengthened.

Ensuring maximum participation in voting is the perfect way to strengthen democracy.

Can we all make this happen?

— Narendra Modi (@narendramodi) March 13, 2019
My young friends @RanveerOfficial, @Varun_dvn & @vickykaushal09,

Many youngsters admire you.

It is time to tell them: Apna Time Aa Gaya Hai and that it is time to turn up with high Josh to a voting centre near you.

— Narendra Modi (@narendramodi) March 13, 2019
Requesting @smitaprakash, @PTI_News, @navikakumar and @prasannavishy to embolden the cause of high voter turnout in the 2019 polls. As leading public voices associated with important platforms, your support on voter awareness will be valuable and beneficial for 130 crore Indians.

— Narendra Modi (@narendramodi) March 13, 2019
Dear @sarbanandsonwal, @himantabiswa, @SangmaConrad and @Neiphiu_Rio,

I request you to work towards increasing vote awareness in the Northeast.

A vote is a powerful way for people to express and become active participants in India's growth trajectory.

— Narendra Modi (@narendramodi) March 13, 2019
When @mangeshkarlata Didi, @sachin_rt and @arrahman say something, the nation takes note!

I humbly request these remarkable personalities to inspire more citizens to come out and vote in the 2019 elections.

A vote is a great way to make the people's voice heard.

— Narendra Modi (@narendramodi) March 13, 2019
When @mangeshkarlata Didi, @sachin_rt and @arrahman say something, the nation takes note!

I humbly request these remarkable personalities to inspire more citizens to come out and vote in the 2019 elections.

A vote is a great way to make the people's voice heard.

— Narendra Modi (@narendramodi) March 13, 2019
Requesting @deepikapadukone, @aliaa08 and @AnushkaSharma to urge people to vote in large numbers for the coming elections.

As renowned film personalities whose work is admired by many, I am sure their message will have a positive impact on our citizens.

— Narendra Modi (@narendramodi) March 13, 2019
The prolific Phogat sisters, @geeta_phogat, @BabitaPhogat, @PhogatRitu and @Phogat_Vinesh manifest the best of Indian sporting talent.

We've seen you in the wrestling world.

I urge you all to support the movement to ensure greater voter participation in the 'Chunavi Dangal.'

— Narendra Modi (@narendramodi) March 13, 2019
Dear @BajrangPunia, @shankar_live and @BajpayeeManoj,

Your talent and skill has entertained millions, and made India proud.

Your voice is respected widely.

Please lend strength to our democracy by increasing voter awareness and inspiring people to vote.

— Narendra Modi (@narendramodi) March 13, 2019
I appeal to @RubikaLiyaquat, @anjanaomkashyap, @sudhirchaudhary, @rahulkanwal and the team of @republic to spread awareness on voter registration, and why every Indian, particularly the youth should vote.

Your support can ensure more people exercise their franchise.

— Narendra Modi (@narendramodi) March 13, 2019
Dear @msdhoni, @imVkohli and @ImRo45,
You are always setting outstanding records on the cricketing field but this time, do inspire the 130 crore people of India to set a new record of high voter turnout in the upcoming elections.
When this happens, democracy will be the winner!

— Narendra Modi (@narendramodi) March 13, 2019
Urging @SrBachchan, @iamsrk and @karanjohar to creatively ensure high voter awareness and participation in the coming elections.

Because…its all about loving your democracy (and strengthening it). 🙂

— Narendra Modi (@narendramodi) March 13, 2019
Well said @narendramodi ji. The true hallmark of a democracy lies in people's participation in the electoral process. Voting has to be a superhit prem katha between our nation and its voters 🙂 🙏🏻 https://t.co/rwhwdhXj1S

— Akshay Kumar (@akshaykumar) March 13, 2019
https://twitter.com/arrahman/status/1105706425093840897