News & Gossip
Playboy cover model Sarah McDaniel bullied in childhood for her looks !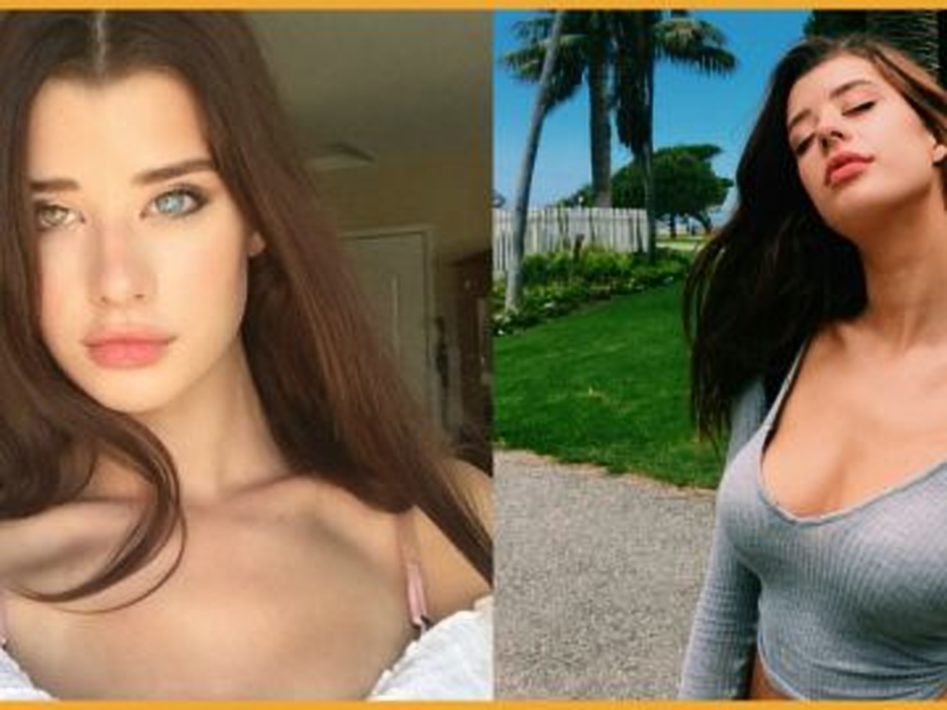 Sarah McDaniel the newest Playboy magazine cover girl model, who once got bullied by her bullies in her school during her childhood days due to her looks is now ready to set everyone's heart on fire by her damn killer and amazing looks, hot and sexy body, and her suavely charming personality. Sarah is currently an Instagram model who is really very well known, renowned and damn famous and popular for her sexy figure that is in the controversies lately. This 19 year old model becomes the first one to feature on Playboy Magazine Cover's first ever non nude issue which is going to be released this year quite soon in October 2018.
This very rare, less known and quiet unusual syndrome in the model makes her unique, called heterochromia iridium. This rare genetic disease or condition of hers causes her both eyes color to be very drastically different from one another. In a recent interview, she shared her story no holds barred totally up close and voiced out vocally about her struggles and how she was bullied during her childhood.
"I didn't really always wanted to be a model or make career in modelling. I knew from a pretty young age maybe from the time I was probably just barely 16 years old, that I wanted to focus on becoming a full time model but I never really thought that I could do it. I would say it would be totally around two years ago when I really started getting serious about it and started getting more people paying attention to me," said the model.
She doesn't like to think or even consider herself as a model. Sarah has over 320k followers on Instagram.
"People actually end up thinking that I really got famous and recognized from Instagram, but I want to clear it to them that I was already a model before. I was actually immersed in doing more things in modelling before the [Playboy] cover news came out," she continued.
"I like to really show and project to people more in depth and minute detailing about what I like because I really love being in midst of nature. I mainly just love and like to post that kind of stuff on social media because I feel like it attracts the eyeballs and attention of people that like the same things as me. I want to have that kind of a ever increasing fanbase rather than just posting any booty pics or whatever. I feel like you get the wrong kind of attention," she added.
The model Sarah McDaniel who is to be featured in Playboy Magazine October 2018 first non nude cover issue was basically born and raised in Roseville, California. She had to keep moving and transferring so many times in Southern California because of her father's job as a project manager. She really didn't have any friends back in her childhood days in her school and was often bullied by the school people or the bullies who used to call her ugly.
"My teeth were very ugly and horrible before I got braces. I had also gained a little weight when I was young and small and at that time there were so many other things that I used to be very stressed about. I didn't really wore any sort of makeup all through high school or middle school," Sarah said.
Sarah also explained all things openly about her reserved nature, how insecure she was for her looks and how she was bullied and was very scared and afraid to connect with people thinking they might hurt her.
"I never had any single friend or a group of friends or even anyone who would stand up for me. I think it was all about really being tall and weird looking and still growing into my features. I think the biggest thing was probably my braces or teeth or personality as any one or people in general didn't even like me at all around them. I just didn't really connect with a lot of the kids. Maybe because I was super deeply immersed, heavily invested and engrossed into 'Lord of the Rings' a little too much that it probably just scared a little people off."
McDaniel has confessed to thanking the Rolling Stone celebrity photographer Theo Wenner, as only he was the first one or the only person who noticed her after her huge social media following and her Snapchat videos too. Which made the selection for the Playboy Magazine cover model much easier.
"He was intrigued and amazed by it because he doesn't actually like to use Snapchat. Every day I would take a new video, like behind the scenes or whatever. I think that kind of just connected and clicked with the Playboy magazine trying to be more personal towards the magazine and more real towards the younger audience. I think he had probably just realized that I could be the type of girl they'd want to promote more on Playboy."
The coincidences were so right that Warner become the photographer for the Playboy Magazine cover's non-nude edition and Snapchat became their theme for the shoot.
"I never really have expected a lot of things that have come to me now in my career as a model. I would have never been able to do any of this on my own if you ask me honestly and frankly no holds barred. It's all really about the people who believed in me and pushed me towards it. Theo kind of guided me towards the Playboy thing and talked me up."
And the model also believes and has totally agreed to the fact that it was a good idea to keep the edition non nude. She further said, "I think it was time for a change. They had been doing the same nude magazine covers thing for so long. You can literally just see naked women everywhere now. I think it was really a very intelligent and a smart move because they have a lot more good content now and they can get a lot more models now because it's non nude. I think it will definitely change everyone's mental mindset, mind frame and make people focus on a lot more than just a naked woman's body, even though it is a beautiful thing and everyone wants to see it".
McDaniel was asked what would be her answer if she was asked to pose nude for the magazine. To which she said it depends on the style and the photographer.
"There's a lot of things that have contributed or played a huge part in my decision, but I really think that I would definitely have to think about it. There's always going to be a part of me that would want to be in it anyway, only because Playboy is so huge and it's a historical magazine," she said.
"My parents have always been there with and for me along the journey for such a long period of time right from the start till now and they know how much I want success in modelling and anything that I want to do. They've been my rock and support system in everything I've done and achieved till now and it will never change in my life ever. My dad was the first one to be super supportive like, 'I believe in you. I want you to do the Playboy magazine' — before he even knew it was non nude. He has trust and faith in me and my decisions. He just obediently supports everything I do and is always there for me. It's awesome."
Her career has just started right now and there is definitely a lot more to be achieved by her, we would like some words of advice from her for the upcoming models in the industry.
"I wasted maybe over an entire single year of my life because I had fell into their trap and just obediently listened to other people telling me things that weren't true in any sense and way. I had really undergone and went through a lot of rejection and hate. My previous agency just told me that I couldn't do runway in modelling, I couldn't do acting in TV series on prime channels and Hollywood films, couldn't do all these things and it threw me off. You should really only just listen and pay attention to the people who actually believe in you and are behind you, because that is what is really going to get you somewhere in your professional career life. If it ultimately doesn't work out, then you did give it your best shot."
"It's a very huge and big dream of mine. But I had never even imagined and thought that Playboy would happen either so you never really know."