Bollywood
Padmaavat Box Office Collection: Sanjay Leela Bhansali Film Crosses Rs 50 Crore Mark!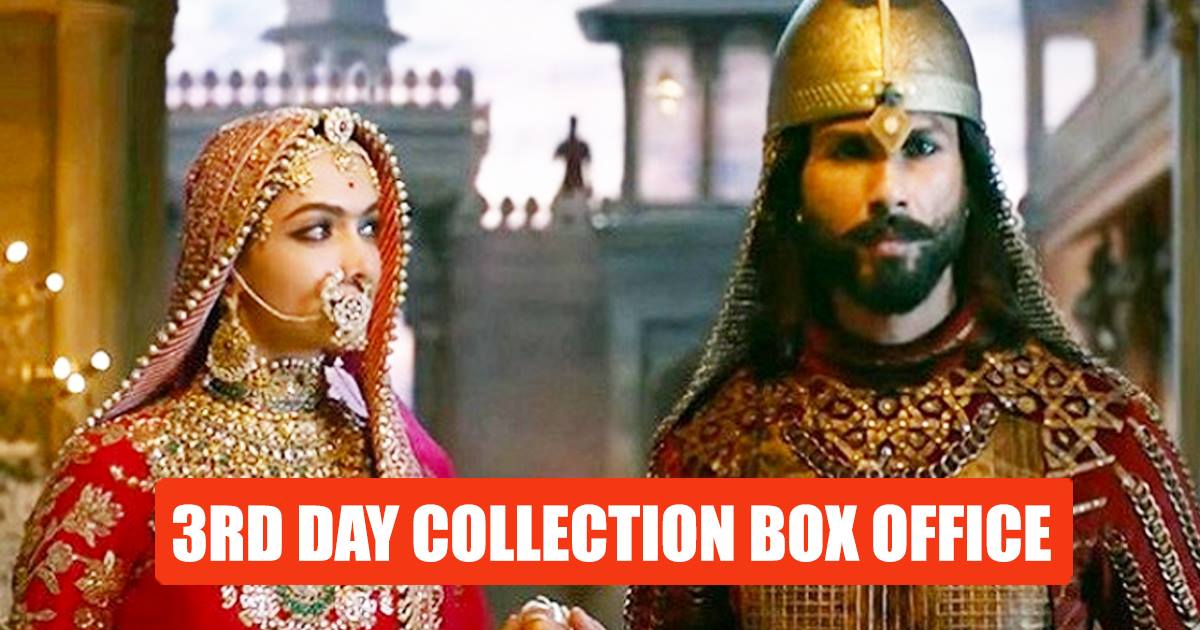 After getting stuck in back-to-back controversies, finally Padmaavat made its to way to theater. Karni Sena haven't gave up till now, hence they burnt Ajay Devgan's theater for premiering the movie. Whosoever have watched the film, can't resist themselves from accepting the fact that Sanajy leela Bhansali and his team did a fabulous job. Even critics are showering their praise on Padmaavat. Ranveer Singh's grey shaded character is hugely most appreciated.
Even though movie have not been released some states but it crossed Rs 50 crore mark. The film has managed to earn Rs 32 crore on Friday bringing the total collection of the film to Rs 56 crore in just three days.  See movie critic and analyst Taran Adarsh said in his series of tweets:
Despite challenges and extremely limited preview shows [which commenced in evening], #Padmaavat collects ₹ 5 cr in previews screenings on Wed.

— taran adarsh (@taran_adarsh) January 25, 2018
Despite non-screening in few states and protests/disturbances, #Padmaavat fares VERY WELL on Day 1… Had it been a peaceful/smooth all-India release, the biz would've touched ₹ 28 / ₹ 30 cr… Wed [limited preview screenings] 5 cr, Thu 19 cr. Total: ₹ 24 cr. India biz.

— taran adarsh (@taran_adarsh) January 26, 2018
Even Taran Adarsh complemented Ranveer Singh's performance in his tweet!
Not many actors accept the challenge of enacting negative roles. @RanveerOfficial is enjoying tremendous acclaim for his act in #Padmaavat and has also cemented his status by delivering the numbers: His biggest Day 1 on Thu [19 cr] and his biggest single day ever on Fri [32 cr].

— taran adarsh (@taran_adarsh) January 27, 2018
#OneWordReview…#Padmaavat: O-U-T-S-T-A-N-D-I-N-G.
It's a MASTERPIECE.
Rating:- ⭐️⭐️⭐️⭐️½
Detailed review follows.

— taran adarsh (@taran_adarsh) January 23, 2018
He also shared the world wide Box office collection stats too. Have a look on the series of tweets below:
#Padmaavat
UK
Thu £ 115,710
Fri £ 143,642 [some locations yet to be updated]Total: £ 259,352 [₹ 2.34 cr]@Rentrak#Padmaavat
GERMANY
Thu € 66,364
Fri biz yet to be updated.
Total: € 66,364 [₹ 52.45 lakhs]@Rentrak

— taran adarsh (@taran_adarsh) January 27, 2018
#Padmaavat
AUSTRALIA
Thu A$ 363,973
Fri A$ 537,530
Total: A$ 901,503 [₹ 4.65 cr]@Rentrak#Padmaavat
NEW ZEALAND
Thu NZ$ 64,265
Fri NZ$ 98,460
Total: NZ$ 162,725 [₹ 76.10 lakhs]@Rentrak

— taran adarsh (@taran_adarsh) January 27, 2018
While talking to leading daily about the Padmaavat and its collection, Girish Johar said that, "At the end of the day, viewers are only looking to be entertained and they would avoid getting into a ruckus, as much as possible. Therefore, the advance bookings of Padmaavat have also been affected in that regard. While in some cities, the bookings are as strong as ever, there are also some pockets where people have showed little or no interest in the advance booking of the tickets. Mostly, people have found it wise to take a back seat currently and give the troublesome situation a day or two and then take a decision about watching the film in cinema halls."
Have you watched Sanajy leela Bhansali film-Padmaavat? Do tell us your answer in comment section below. If you have watched the film then don't forget to share your review about the film with us. Stay tuned with us for latest news and Bollywood happenings.