News & Gossip
Netizens Brutally SLAMMED The Trailer Of Priya Prakash Varrier's Debut Film Sridevi Bungalow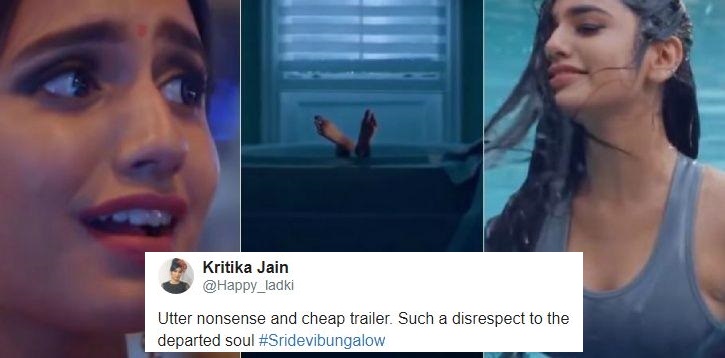 Remember internet sensation Priya Prakash Varrier, who rose to fame with a wink is back in the news once again. Last year, she became national crush after a video of her wink went viral on the social media.
Her popularity skyrocketed after the first song "Manikya Malaraya Poovi" from her debut Malayalam film Oru Aadar Love released. Her Instagram followers increased exponentially breaking several records in the process.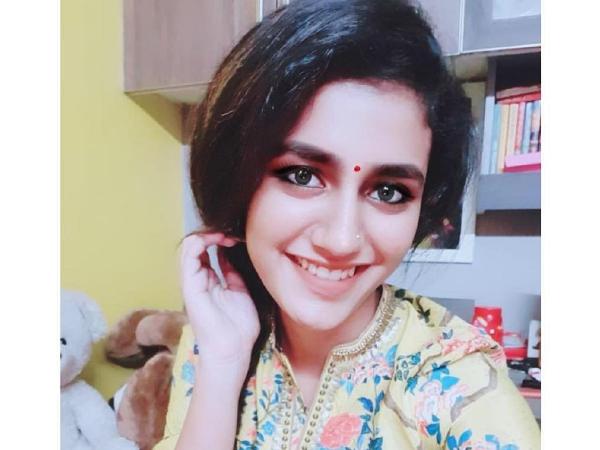 Priya Prakash Varrier has once again hit the news sadly for all the wrong reasons. She is all set to make her Bollywood debut in Sridevi Bungalow' directed by Prasanth Mambully. Just recently, the trailer of the film was released and the final scene in the trailer shows the lead actress drowning inside a bathtub. This has created a huge controversy on social media.
https://www.youtube.com/watch?v=5OC5vh1ioks
If reports have anything to go by, Bollywood filmmaker Boney Kapoor has already filed a legal case against the makers for the uncanny similarities between the trailer of the movie and Sridevi's actual life.
Talking about the legal notice from Boney Kapoor, director Mambully said to an online portal, "We received a legal notice from Mr Boney Kapoor last week. And we will face it. My film is a suspense thriller. I told him (Boney Kapoor) that Sridevi is a common name. My film's character also happens to be an actress. We will face it."
The trailer has also created a huge outrage on social media, where netizens are slamming the trailer like never before. They even called it sleazy and disgusting.
This is how the Internet reacted: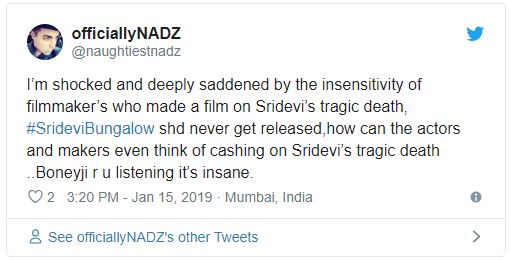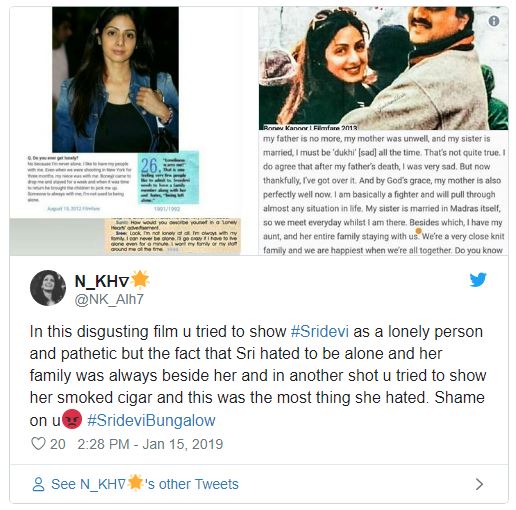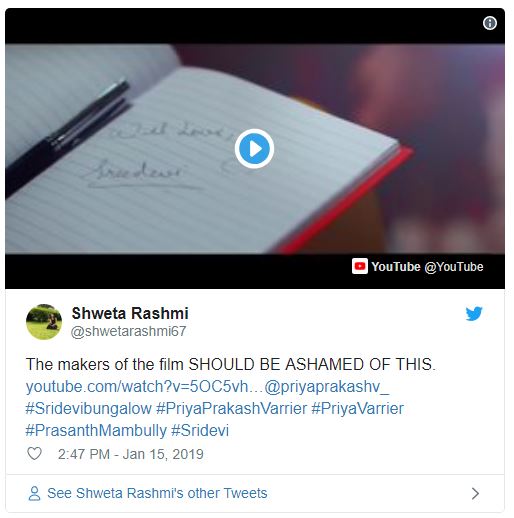 What do you think?