Netflix's gangster drama Sacred Games ended on a mind tickling and hence, the second season is highly awaited by fans. Netflix has officially announced that something exciting is in store in the next 14 days in the Sacred Games universe.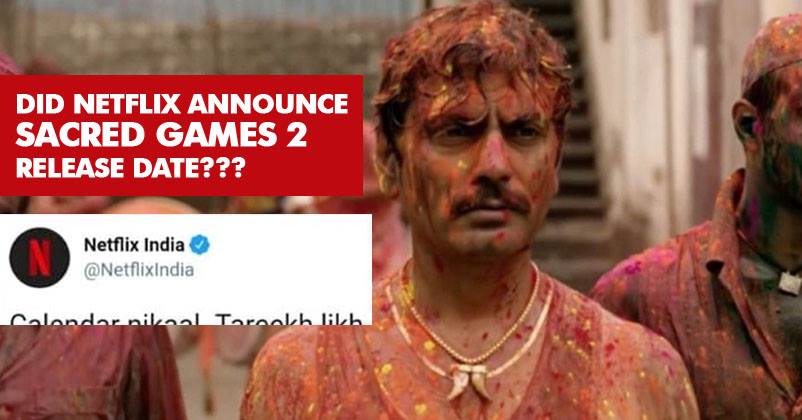 Sacred Games which has been directed by Anurag Kahsyap and Vikramadiyta Motwane, features Saif Ali Khan, Nawazuddin Siddique, and Radhika Apte. It has won the hearts of one and all.
The story which was based on the book of the name by Vikram Chandra, Sacred games became a global hit, receiving praises from all quarters. The second will be co-directed by Kashyap and Masaan director Neeraj Ghaywan.
Netflix India took to twitter to share the news, letting fans to wonder if its release date or perhaps a trailer release of Sacred Games Season 2?
Calendar nikaal. Tareekh likh le. 14 din mein kuch bada hone wala hai.

— Netflix India (@NetflixIndia) March 19, 2019
— ANKIT'Rolls Team Lame Kofta (@ManyFacedAnkit) March 19, 2019
Jaldi jaldi jaldi pic.twitter.com/kpE8kWnKxO

— 乇乂ㄒ尺卂 ㄒ卄丨匚匚 ℙ𝕃𝔸ℕ𝕋 𝔻𝔸𝔻𝔻𝕐 (@oothikicha) March 19, 2019
— chup_kar_bc (@srinu55) March 19, 2019
— SharmaJi ka ladka bhi Chowkidar (@Pranjultweet) March 19, 2019
— Raghav (@comedibanda) March 19, 2019
धार्मिक खेल द्वितीय आने वाला है क्या ?? pic.twitter.com/TwohSxFMHs

— Shivam Kumar (@iamshiv144) March 19, 2019
#SacredGames2 ki date aayegi lagta hai… Abto Trivedi bhi marega..

— Vivek [email protected] (@tri_vm) March 19, 2019
14 din baad April ki 1 tareekh bhi hai 😆

— Prasanna Jain (@jainprasanna0) March 19, 2019
Calendar nikaal. Tareekh likh le. 14 din mein kuch SACRED hone wala hai.

— Yash Maheshwari (@yaash08) March 19, 2019
Kya farak padta hai? Katekar is gone na 🙁

— Manvi (@em_jae_17) March 19, 2019
Gaitonde Baau aa rela kya ????

— AAKASH🎭KAPIL (@realoneakash) March 19, 2019
Gaitonde Baau aa rela kya ????

— AAKASH🎭KAPIL (@realoneakash) March 19, 2019
Ohhhho… Sartaaj aur Gaytonde aa rahe hai
Eagerly waiting #SacredGames

— Mahadeo Nagrale (@mahadevn49) March 19, 2019
@NetflixIndia @radhika_apte sacred games 2 trailer releasing…..ab to bhagvan bhi khud ko nahi bacha payega

— Pr9 kumbhar (@pr9_kumbhar) March 19, 2019
Bhagwaan aa raha hai!!!🌝 Bacha lo apne seher ko…#Gaitonde

— Karan Panchal (@KaranPanchal52) March 19, 2019
Merko 'Bunty' mangta hai season 2 me🤘

— Devansh Kolhatkar (@DevanshKolhatk1) March 19, 2019