News & Gossip
MS Dhoni Is Getting Much LESS Than Virat, Here Is How Much Every Cricketers Earn!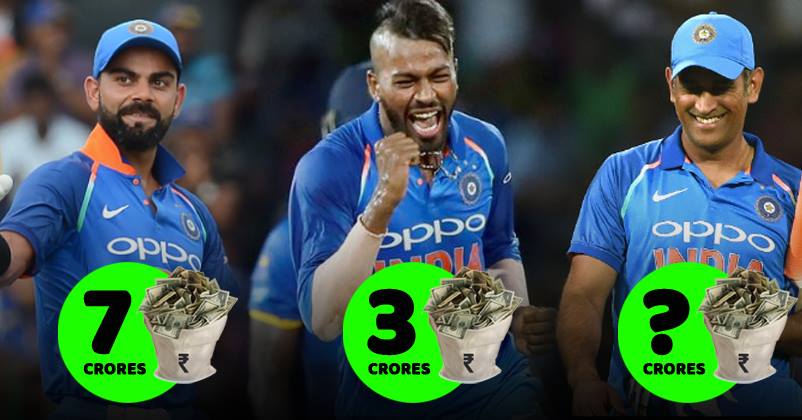 Cricket is the most popular sports in India. Cricket in India is not a sport, it is a religion. Every cricketer is adored by millions of fans, who treat them like gods. In addition to fame and popularity, Indian cricketers also make tons of money.  In fact, they are highest paid cricketers in the world. After all, Board of Cricket Control in India (BCCI) is the richest and most influential cricket boards in the world. It is obvious that Indian cricketers would make tons of money.
Cricket is such popular game in India that many people want to make their career in this game. Getting selected in the playing XI for the country is a big achievement. In fact, if some players don't perform very well in the match, they get replaced pretty easily. Therefore, we have to consider this in mind while talking about their salaries. The players playing for the nation deserves the highest salary.
Now, BCCI has revised the pay structure for all the players. Their salary has got doubled as compared to the previous year. The board has also a new category named Grade A+, which features players who play all three formats of the game.
The Grade A+ consist of Virat Kohli, Rohit Sharma, Shikhar Dhawan, Bhuvneshwar Kumar and Jasprit Bumrah. All the players in this category are getting a whopping sum of Rs. 7 Crore. On the other hand, MS Dhoni is in Grade A and will get Rs. 5 Crore annually.
Here Is The Salary Of All The Players:
Grade A+ (Annual Salary: 7 Crore)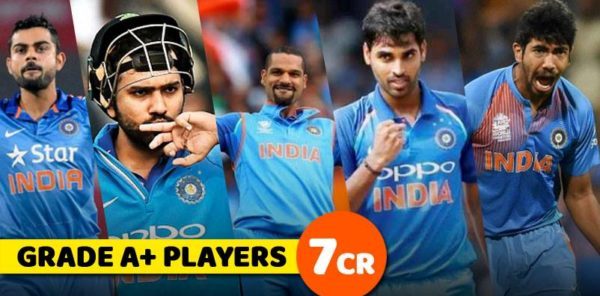 Virat Kohli, Rohit Sharma, Shikhar Dhawan, Bhubneshwar Kumar and Jasprit Bumrah
Grade A (Annual Salary: 5 Crore)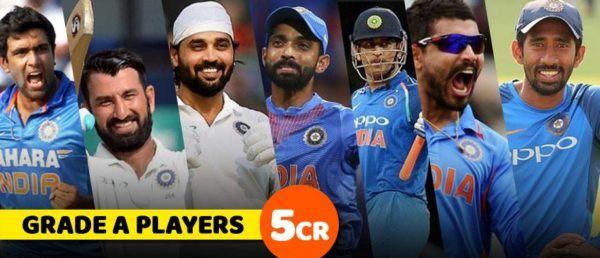 MS Dhoni, Ajinkya Rahane, Murali Vijay, Cheteshwar Pujara, Wridhhiman Saha, Ravichandran Ashwin, and Ravindra Jadeja
Grade B (Annual Salary: 3 Crore)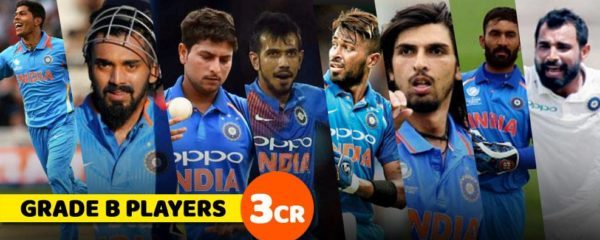 KL Rahul, Umesh Yadav, Kuldeep Yadav, Hardik Pandya, Yuzvendra Chahal, Ishant Sharma, Mohammed Shami and Dinesh Karthik.
Grade C (Annual Salary: 1 Crore)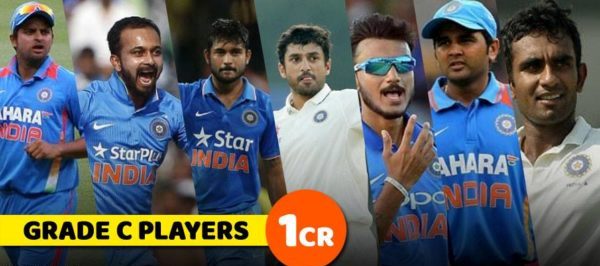 Suresh Raina, Kedar Jadhav, Karun Nair, Manish Pandey, Parthiv Patel, Axar Patel and Jayant Yadav
What do you think of the same? Tell us your thoughts in the comment section down below.