News & Gossip
Mahindra Gifted A Car To Kerala Fisherman Who Offered His Back To Help Women Climb On The Boat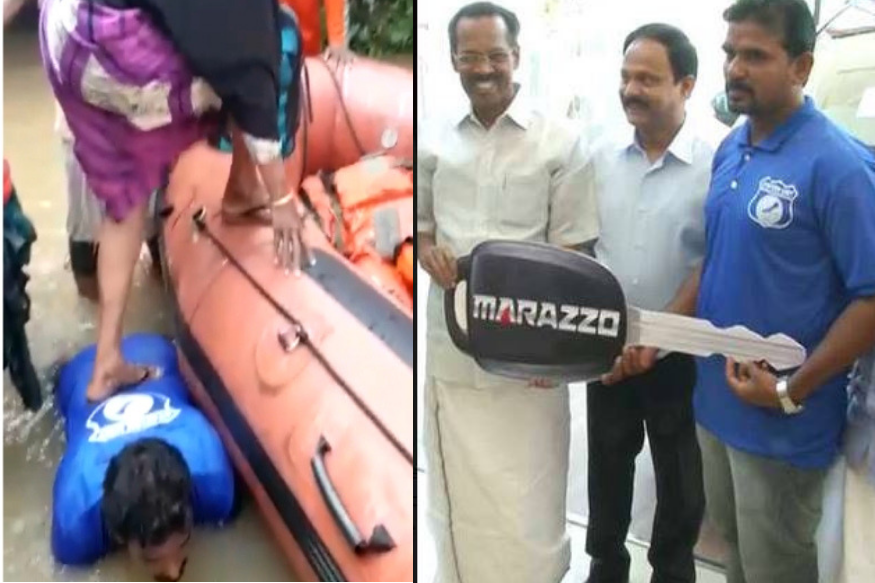 Kerala flood was one of the most devastating natural disasters in the country. It also united the whole country, who came in support of the victims of this tragic incident. Heroic acts of many people saved several lives when God's own country was drowning.
In the time of need, Kerala fishermen emerged as saviors. Hundreds of the fishermen ventured into the places where Indian Navy couldn't reach to help the needy. Their brave heart and astonishing work caught everyone's attention. They received lots of praise for their heroic act. One such fisherman was Jaisal KP.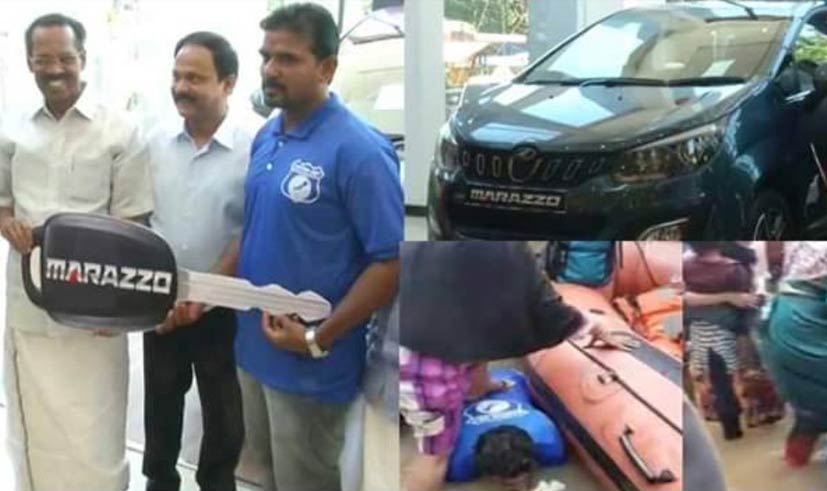 Jaisal KP was pictured laying down in the water and offering his back to the people so that they could climb on to the boat. The picture went viral on social media and the internet making Jaisal a hero, which he deserved.
Jaisal is a 32-year-old fisherman from Tanur. He helped elderly women climb on the NDRF boat. He willingly offered his help to NDRF team and rescued three stranded women in Vengara Muthalamad area. One of them had an infant.
The heroic and kind act of Jaisal caught the attention of the Kerala government. Excise and Labour Minister of Kerala, TP Ramakrishnan awarded him with a gift for his heroic act.
A Unique gift from @EramGroup @EramMotors & @MahindraRise to the #Humanitarian Act by #Jaisal Tanur. As an act of recognition and gratitude, we present the first #MahindraMarazzo to #Jaisal who submitted himself, alongside thousands, as a rescuer during the floods in Kerala. pic.twitter.com/AWjUzolLYq

— SiddeekAhmed (@SiddeekAhmed) September 8, 2018
Mahindra and Eram Motors joined hands to gift Jaisal KP with a brand new car. He received a new Mahindra Marazzo, which will definitely encourage him to continue his brave acts.
@anandmahindra superb gesture from Eram Motors. Gifting a Mahindra Marazzo to Jaisal who offered his back for women to board the boat during Kerala floods pic.twitter.com/xSFlJWwpBz

— Sundar Ramachandran (@sramacha) September 9, 2018
Even Anand Mahindra took to Twitter to praise this movie.
https://twitter.com/anandmahindra/status/1038701067523911680