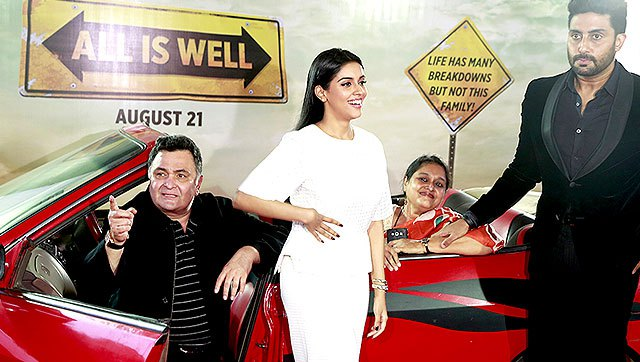 Returning to the big screen after a long time as a solo lead, Abhishek Bachchan is making sure he is not leaving any stone unturned when it comes to promoting his upcoming film, All Is Well. Abhishek will be paired with Asin, who is also making a Bollywood appearance after a long time. Besides the lead pair, the film also stars Rishi Kapoor and will be releasing all over India on the 21st of August this year.
Recently, Abhishek and Rishi were present at a press conference together. Talking about his experience with Rishi Kapoor, Abhishek said, "You cannot bring your personal life in front of the camera. Personally I love him. He is like a father to me. I'm a huge fan of his. But I cannot bring it in the film because that is the opposite of what I'm meant to play with him in the film."
Abhishek Bachchan also went on to say that, "What our relationship is in real life is of no importance in front of the camera. We have to enact our characters. The two characters that we have in the film are of a father and son who don't get along. They keep fighting. I think he troubles me a lot and he thinks I trouble him a lot. You see those shades that banter keeps on going throughout the film. At the end of the day, we're actors and our job is to perform in front of the camera."
Well, let's hope this time Abhishek Bachchan has more success than his previous solo hero films.