News & Gossip
Look At The Beautiful Daughters Of Famous Bollywood Celebrities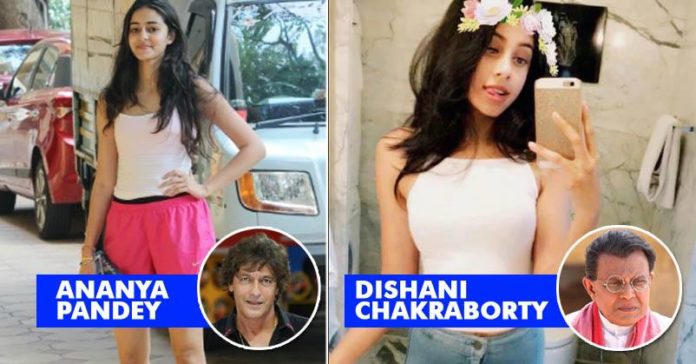 Bollywood is flooded with beauties and brains. We have the enchanting goddesses of gorgeousness along with sharp brains. Along with them, their kids are now making people go banana over their on point looks and dress-up. We often encounter Bollywood celebrities with their families. And undoubtedly their bonding and love is something to admire.
Children of the people of film fraternity grow in an environment which is too perfect, in all terms. Affected by the surrounding, they grow up to be super classy and elegant. Their fashion sense and styles are an inspiration, not just for the commoners, but also for the fellow industry people. Today, we bring to you such 18 jaw dropping beauties from Bollywood. And mind you, they are not actors and actresses, but their beloved daughters.
1) Sara Ali Khan
Sara Ali Khan is first child of Bollywood actor Saif Ali Khan and his first wife Amrita Singh. She is often clicked at Bollywood parties and get-togethers.
2) Suhana Khan
For some people, the name is enough. So is the case with drop-dead gorgeous girl Suhana Khan. Born on May 22, 2000, she is the daughter of Bollywood superstar and super dad Shah Rukh Khan. The girl recently attracted eyeballs at her father's 52nd birthday.
3) Renee Sen
Renee Sen is Sushmita Sen's daughter. She recently turned 18 this year. Sushmita was just 25 years old when she adopted Renne in 2000.
4) Aradhya Bachchan
For her age, the girl is a complete diva. We are talking about none, but Aradhya Bachchan. Born on November 16, 2011, Aradhya Bachchan is the granddaughter of Amitabh Bachchan and daughter of Abhishek Bachchan and Aishwarya Rai. The little princess will soon turn 6 this November.
5) Aaliyah Kashyap
Daughter of Anurag Kashyap and Aarti Bajaj is a charmer. Born on January 9, 2001, the girl has a go to style mantra.
6) Krishna Shroff
Krishna Shroff is the daughter of Jackie Shroff and Ayesha Shroff. She was born on January 21, 1993. Krishna has an astonishing style and an elegant look.
7) Jhanvi Kapoor
Jhanvi Kapoor is undoubtedly one of the most beautiful and stylish star kids we have in Bollywood right now. Her choice of outfits and the confidence with which she carries it is commendable.
8) Jamie Lever
Jamie Lever is an Indian stand-up comedian. She has it in her genes; she is the daughter of the matchless actor and comedian Johnny Lever.
9) Ira Khan
Ira Khan is Reena Dutta and Aamir Khan's daughter. She has an amazing style and a cool fashion approach.
10) Ananya Pandey
A glimpse of the lady is enough for the day. Ananya Pandey, daughter of Bollywood actor Chunky Pandey, is such a beautiful lady. Last seen in her coolest avatar with Suhana Khan, she is likely to be the new style diva.
11) Paloma Dhillon Thakeria
Paloma Dhillon Thakeria is the stylish daughter of a super beautiful mother Poonam Dhillon. Her supercool dress up at Justin Bieber's gig at the DY Patel stadium, Mumbai was a big news.
12) Navya Naveli
Are you wanting styling tips, follow Navya Naveli. She has the most amazing outfits and accessories. Daughter of Shweta Bachchan and granddaughter of Amitabh Bachchan, this gorgeous lady has everything to be proud of.
13) Dishani Chakraborty
Dishani Chakraborty is Mithun Chakraborty's daughter. She is beautiful, stylish and elegant.
14) Nysa Devgan
Nysa Devgan is daughter of Ajay Devgan and Kajol. Born on April 20, 2003, she is a perfect dusky girl. Often seen at events with parents, Nysa Devgan is one of the wittiest star kid.
15) Trishala Dutt
Daughter of Sanjay Dutt and Richa Sharma, Trishala Dutt is sophisticated in style. She flaunts her well-toned body in a super confident way.
16) Aalia Ebrahim
Pooja Bedi's daughter Aalia Ebrahim is a sensation in the social circle. Her Instagram pictures are more than adorable.
17) Alaviaa Jaaferi
Alaviaa Jaaferi is daughter of Javed Jaffrey and Habiba Jaffrey. She is counted as one of the elegant yet stylish star kids.
18) Khushi Kapoor
Khushi Kapoor is daughter of Sridevi and Boney Kapoor. She is the gorgeous sister of super gorgeous Jahnavi Kapoor.