News & Gossip
Life's a Beach For AbRam, Shah Rukh Khan's 11-Month-Old Son
Life's a Beach For AbRam, Shah Rukh Khan's 11-Month-Old Son
DRESSED IN A WHITE TEE AND SHORT, ABRAM MADE AN ADORABLE BEACH BUM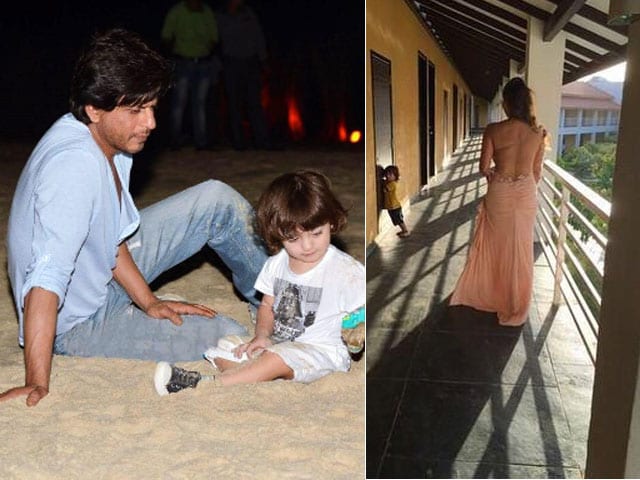 It appears that actor Shah Rukh and his wife Gauri weren't the only celebrity Khans in Goa recently. AbRam, their 11-month-old son, was there too.
Dressed in a white tee and short, AbRam made an adorable beach bum.
How many RTs for our Cutest Father-Son Jodi on Earth ? SRK-AbRam pic.twitter.com/pZFc6v7yUQ

— ♥KING KHAN CLUB♥ (@KingKhanClub1) April 17, 2015

AbRam also seemed to have kept his mother Gauri on her toes.
GauriKhan & Little AbRam at the Planet Hollywood resort in Goa. | @iamsrk pic.twitter.com/cUUFbycE8R — ♡♔SRKCHENNAIFC ♔♡™ (@SRKCHENNAIFC) April 15, 2015 AbRam, who made his public debut on twitter last year, also accompanied his father and his elder siblings Aryan and Suhana to Kolkata some days ago, where he was seen cheering SRK's team, the Kolkata Knight Riders in their opening IPL match against the Mumbai Indians. SRK and Gauri were in Goa to attend the opening of a resort, the interiors of which were designed by Gauri Khan. Mr and Mrs Khan seemed to have made the most of their visit and spent some quality time together.
[ #HQ tagless ] @iamsrk , #GauriKhan & #AbRam at #launch #PlanetHollywood resort in #Goa #party #SRK #partyBeach pic.twitter.com/OubXFDItFf

— ❤ THE KINGs CLUB ❤ (@SRKFC1) April 17, 2015