Comedy King Kapil Sharma has become quite a sensation and has a huge fan following. Kapil Sharma as the host of the 'Kapil Sharma Show' where he interviews celebrities and make them connect with fans in a unique way.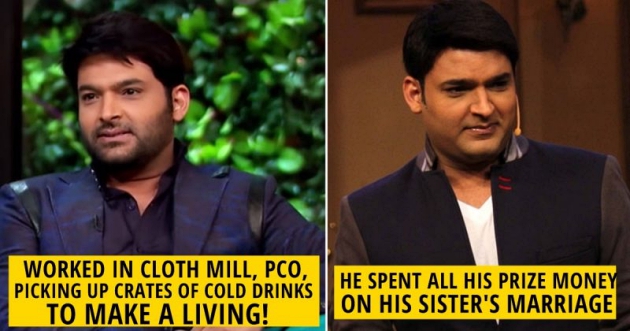 After winning 6 consecutive seasons of "The Comedy Circus", he rightly moved on to having his own comedy show that further increased his fame and popularity.
A few facts about this comedian, who turned T.V show host, turned actor and turned producer.
He Believes His Mother is the Source of Encouragement
He believes that his mother is the person who is responsible for his success. His sense of humor comes from his mother. There are numerous odd jobs done by Kapil for survival before earning this popularity. Crates of Pepsi are picked by him. Even, he worked in a cloth mill and P.C.O. All these experiences are taken by him as a stepping stone.
Rejected For The Comedy Show
Kapil's first TV show was The Great Indian Laughter Challenge, a show which has given many comedians a platform. But Kapil was initially rejected. He gave up and made a comeback by winning the show eventually.
From a Family of Cops, He Comes
Kapil's family has a police background. His father Shri Jeetendra Kumar, he was a head constable in Punjab Police and, his brother Ashok Sharma too is in police.
His initial struggle!
Kapil used to do theater while in college. He struggled a lot in those days. And may be that struggle has made him successful.
He is Fond of Music
Music is the first love of Kapil. Kapil has always said on numerous occasions that music is his first love and he always wanted to be a singer. The comedian also tried his hand at singing as he participated in few singing shows as well.
His First Show As Host
The first show as a host in his career was 'Chhote Miyan'.