Kriti Sanon recently shot for Cosmopolitan magazine with a taxidermied giraffe. She donned a black high-neck top paired with silver tassel trousers and black stilettos. In the picture, she is seen standing and posing with the giraffe. This photo shoot was for spreading the message of women empowerment.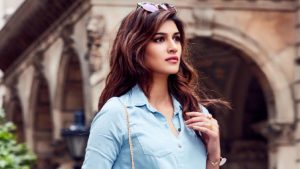 The photoshoot got the actress embroiled into controversy. Netizens criticised and slammed her for torturing the animal.
Before going through the comments by netizens, have a look at the picture. The caption claims that the photo shoot was apparently done in England's Anyhoe Park where the animals are preserved by the art of taxidermy. Let's show some light on 'taxidermy'. It is the art of preserving an animal that died of natural causes.
Here's the picture.
https://www.instagram.com/p/BmN38nCBFff/
Here are some of the comments which we can find on the picture. One of the users commented, "Such a shame! You guys are so shameless. Talking about atrocities while portraying animal cruelty in the name of fashion."
One comment read: "Guys it doesn't matter if it's fake or real. The entire picture is just wrong. If a women dummy was hanging with a male model posing..will that be justified? No."
One user even demanded an apology from the actress saying, "You should take this post down. And delete that picture! And like apologize to every f*****g giraffe. Actually the entire animal kingdom. You want to make a point of subjugation with more subjugation. Ridiculous!"
Finally, the 'Bareilly Ki Barfi' star responded to the controversy. She said, "It was a normal photoshoot in a palace kind of hotel in London; the decor was in the wildlife zone. It's all fake. I am an animal lover."