News & Gossip
The Khans Are Turning 50: Katrina Says Passion Keeps Them Going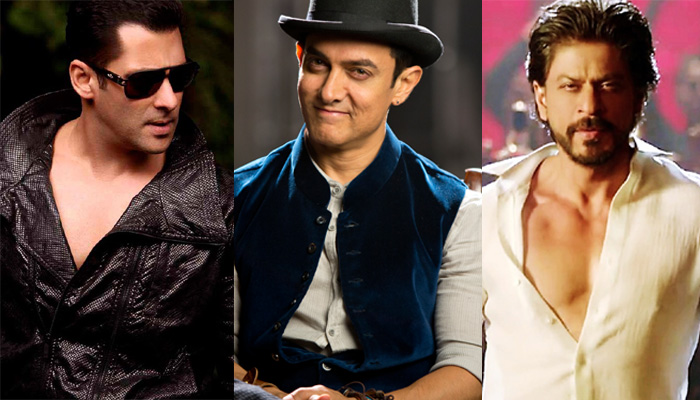 The Khans Are Turning 50: Katrina Says Passion Keeps Them Going
KATRINA KAIF, WHO HAS PLAYED LEADING LADY TO ALL THE THREE KHANS, SAYS IT'S THEIR "PASSION, AUDIENCES' LOVE AND DESIRE" THAT KEEPS THEM GOING
They're turning 50, but the indomitable clout of Bollywood's Khan trio – Aamir, Shah Rukh and Salman – in the Hindi entertainment space continues to get stronger. Age notwithstanding, the trio have a much brighter future, predict trade experts and film celebrities.
Katrina Kaif, who has played leading lady to all the three Khans, says it's their "passion, audiences' love and desire (to excel)" that keeps them going.
"Besides being truly talented, they are all spectacular people, and they will be here for as long as they choose to be," Katrina told IANS.
Aamir is the first of the lot to be turning 50 on Saturday, but he's an unstoppable force, who brings something new and ground-breaking to the table.
He may have lost the cute college-boy looks he had in Qayamat Se Qayamat Tak and Dil Hai Ke Manta Nahin, but if Aamir stands out even today, it's for his ability to tell 'edutaining' tales. He raised the social conscience with films like Rang De Basanti on corruption; Taare Zameen Par on dyslexia; 3 Idiots on the education system; and he took a swipe at organised religion and godmen with PK, as well as his TV show Satyamev Jayate.
After delighting audiences for over 25 years, the actor is yearning to scale more heights and still manages to create a dhoom at the box office.
Aamir says he is "still 18 years old."
"I don't feel that I have reached at the peak of my career. According to me, 'peak' means you are about to go downwards, so I hope I am not at the peak of my career," he added.
Indeed, age is no bar for Bollywood's 'Mr Perfectionist'. Just as passionately as he built an eight-pack for Ghajini, Aamir is now beefing up to play a wrestler in Dangal.
Filmmaker Vishal Bhardwaj, who's yet to work with the Khans, says none of them look 50.
"I think they'll continue having such dominance in the coming years too," Vishal told IANS.
Same is the case with SRK, who will cross 'half century' on November 2.
A look at his career graph explains why he's referred to as the 'Bollywood Badshah'.
He became a rare example from the 1980s, to carve out a successful film career following a TV stint. With shows like Fauji and Circus, he found a visibility that pulled him into the world of films.
Making it big initially with grey roles in Baazigar and Darr, SRK climbed the ladder of success with Dilwale Dulhania Le Jayenge, Dil To Pagal Hai andKuch Kuch Hota Hai, which earned him the epithet of 'Bollywood's king of romance'.
With action films like Don and Ra.One, and issue-based entertainers like Swades and Chak De! India, SRK proved that he could do much more than his signature pose of arms wide open and flashing a dimpled smile.
When he revisited love sagas with Main Hoon Na, Om Shanti Om and Chennai Express, his fans embraced him with love. A successful producer, who believed in the power of technology, SRK's projects chugged away smoothly to Rs 200 crore club.
Despite success on the film front, SRK kept going back to his TV roots with shows like Kaun Banega Crorepati and Zor Ka Jhatka. He is currently hosting India Poochega – Sabse Shaana Kaun.
One actor who has charmed both TV and film audiences with his 'dabangg' ways is Salman, who has turned out to be a true-blue commercial star of the masses. Touted as one of the most bankable stars of tinsel town, he's easily the Bigg Boss of Hindi showbiz with a mix of romantic, comical, action-oriented and family drama roles to his credit.
Salman's second innings in Bollywood took off with Dabangg. His masala laden filmography became tastier with Ready, Bodyguard, Wanted and Kick.
Salman's first stint with TV was Dus Ka Dum, which didn't strike the right chord, but with reality show Bigg Boss, they kicked up a storm on the small screen too.
According to Mumbai-based trade analyst Komal Nahta, the three Khans may be turning 50, "but their box office strength is that of a 25-year-old".
"They'll continue to rule the industry for many more years to come. The kind of box office impact they have with their films and the way they entertain the audience, I don't think anybody can do that," Mr Nahta told IANS.
Distributor Rajesh Thadani doubts if "any new actors can last for this long".
"These three Khans generate the maximum revenue for our industry, and we all look forward for their releases. I'm assuming they will continue to rule," Mr Thadani said.