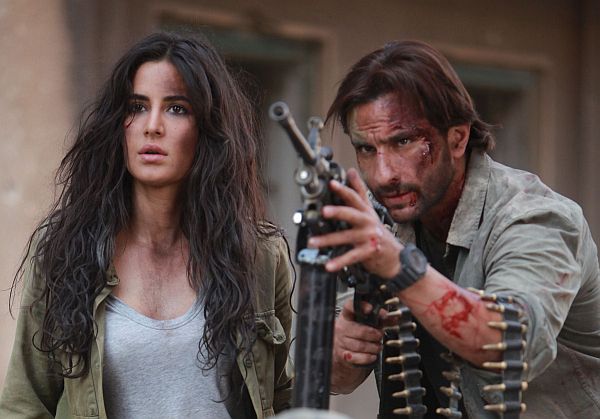 New York was one of the earlier films of Katrina Kaif where the actress was complimented for her acting talent. With director Kabir Khan, she managed to come up with a sensitive performance that found her widespread appreciation. Later, Kabir Khan repeated her in Ek Tha Tiger and while she fitted the part wonderfully well, the film too turned out to be a Blockbuster.
Now with Sajid Nadiadwala produced Phantom, Kabir Khan has showed faith in Katrina all over again and roped her in.
"I have worked with Karina extensively and we have been collaborating for six years now. In Phantom, she is playing a very international character," reveals Kabir, "Her part is based on a lot of people that I have met. As a documentary filmmaker, I have met with many people and an amalgamation of their characteristics is what I have adopted for Katrina's part in the film."
No wonder, on hearing about her role in the film, Katrina instinctively reacted to it. Moreover, since the film is a Sajid Nadiadwala production, she knew for sure that Phantom would be mounted well and there would be certain class to the manner in which the marketing and promotion would unfold.
Meanwhile, Kabir is also particularly impressed with the action that Katrina has performed in the Saif Ali Khan starrer. "She was quite convincing during the action sequences in Ek Tha Tiger and now in Phantom too, where she has to get into the chases and the explosions, she has done it all quite confidently."
Considering the fact that there was a brief break from Katrina in the interim period since he was working with Kareena Kapoor Khan in Bajrangi Bhaijaan, didn't Kabir miss his favorite leading lady?
Smiles Kabir, "Katrina and I are extremely close friends. In fact she bonds very well with my family as well and is a part of our lives. Hence such things don't matter. Moreover, even when I was making Bajrangi Bhaijaan, I was also working on Phantom. So in a way, since it was a non-stop collaboration with Katrina, there was never any point in time when I was missing her presence."
Now one looks forward to how this association plays on screen once the film releases all over this Friday.