News & Gossip
Katrina Kaif Gives Befitting REPLY To Arjun Kapoor For His Dandruff Comment, We Love It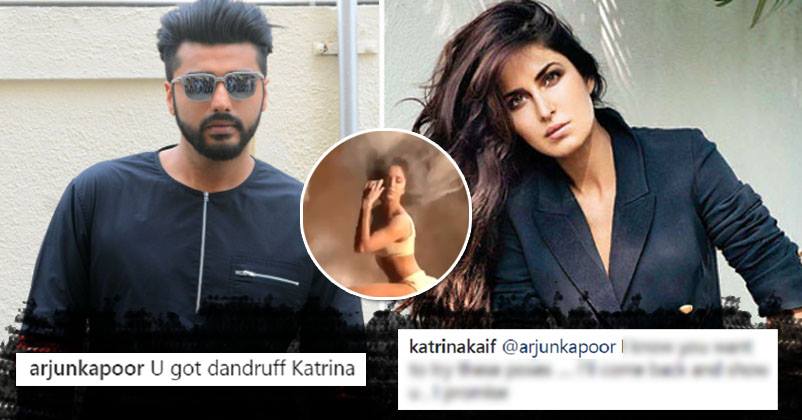 Katrina Kaif is one of the busiest actresses in Bollywood. Currently, she is giving spectacular performances on the Dabangg Tour along with superstar Salman Khan, Jacqueline Fernandez, Sonakshi Sinha and Daisy Shah. Â However, her busy schedule doesn't stop her from keeping her fans updated with her daily life. She has been sharing pictures and videos on Instagram from the tour.
Just earlier, she took to Instagram to share a motion poster, which interestingly got a great reply from Arjun Kapoor.
https://www.instagram.com/p/BkzJkHZAYyL/?taken-by=katrinakaif
Arjun commented,
"U got dandruff Katrina"
This reply from Arjun was appreciated by fans and they loved his sense of humor.
Arjun once again thought of repeating the same and posted a funny comment on another picture of Katrina Kaif on Instagram. First of all, check out the picture down below.
https://www.instagram.com/p/Bk5WUfzAcvR/?utm_source=ig_embed
Arjun wrote,
"And now ur ALL CLEAR!!! Good job Katrina…"

This time, Katrina also replied to Arjun Kapoor's comment. Her comment was a savage one. She replied,
"@arjunkapoorI know you want to try these poses, I'll come back and show u, I promise."

She also brought Varun Dhawan into the mix and posted another comment by tagging Varun. Her comment reads,
"@arjunkapoor even @varundvn can show u some poses in my absence"

After seeing all this, Varun also joined the conversation and wrote,
"Humility"

That's fun banter between the stars, don't you think so? Tell us your thoughts in the comment section down below. Stay tuned to this space for more viral stories.