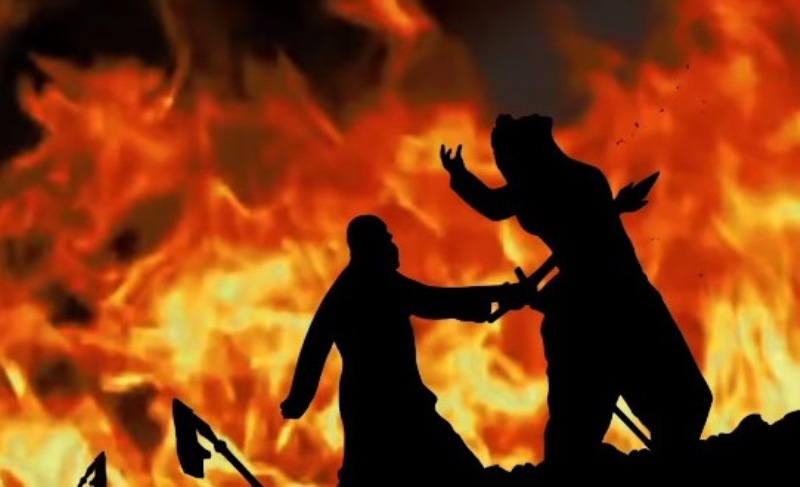 The story of S.S Rajamouli's magnum opus Baahubali goes back from the murder of Amarendra Baahubali (climax of the first part) to the times when he started ruling the kingdom and proved to be a just ruler and enjoyed respect among people. Bhallala Deva (Rana Daggubati), who was the War Commander was continuously indulged in all kinds of war activities, which made him violent and he started dreaming of becoming the king of Mahishmati by side-lining Baahubali. Â Though it was Shivgami's decision to coronate Bahubali as the ruler, she lost peace of mind by the thought of not being able to see her biological son as the ruler.
Days pass and it is realised that the neighbouring kingdom is partnering with other small kingdoms to destroy Mahishmati. Bhallala Deva, bring the War Commander was ordered to kill the war commander and the King of the neighbouring province. With this mission, Bhallala Deva heads for a war with his troop and kills all the leading warriors and finally finds the king, along with a lady warrior who almost puts Bhallala Deva down with her skills. Just then, Katappa puts her down and she happens to be Devsena, the princess of the neighbouring kingdom, who is kept captive in the movie. After seeing the atrocities which are carried out with her, Katappa feels guilty of being a part of it.
On the other hand, Baahubali comes to rescue Devsena and orders to treat her with respect. Eventually both of them end up falling in love with each other and Queen Shivgami acknowledges this. Parallel to this, Bijjala Deva plans to get Devsena married to Bhallala Deva so that he can have a kingdom of his own. Even Bhallala Deva starts developing feelings for the princess but she rejects him. Sivgami goes on to convince Devsena for this marriage for the betterment of the kingdom, and Bahubali and Devsena get married. This enrages Bhallala Deva and he pledges to take revenge for this.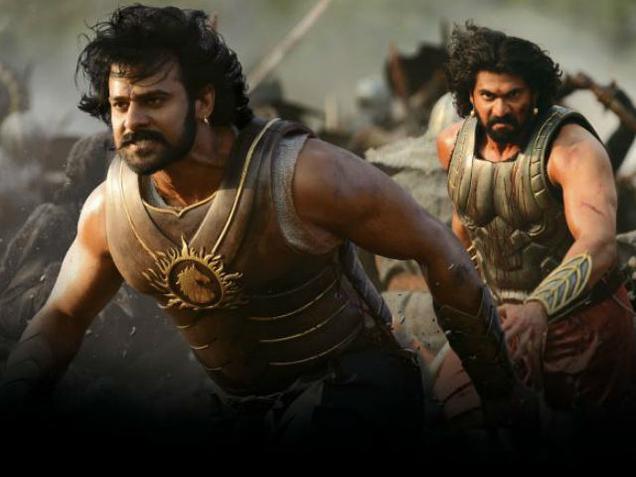 The new king and queen start ruling Mahishmati but by that time, the tension between the two kingdoms increases as Devsena's father is enraged by this marriage. The allies also want to indulge common people in war in order to increase the soldier strength. Even Baahubali is preparing for the war and Devsena gets worried that the war would put lives of so many innocent people on stake. She secretly takes her husband to the ally kingdom and makes him see the reality that even women and children were trained to become soldiers in the war. Seeing this, he makes a promise to Devsena on his child that he will protect these innocent people.
Baahubali then to settle things peacefully but fails and soon, the administrators of the kingdom start doubting Baahubali's efficiency to declare a war and thus decide to appoint Bhallala Deva as the new king. Votes get equally divided between Baahubali and Bhallala Deva and hence it now depends on Sivgami's vote. Sivgami always being rightful, decides to vote for Bhallala Deva as she realises that Baahubali has got an emotional attachment with the enemy and his kingdom, which is not a good sign for a king. Baahubali steps down to become the war commander. This is ironic as the concern which Baahubali had for his people made her coronate him as the king instead of her biological son.
Eventually a war is declared and Bhallala Deva, the new king understands that Baahubali would not kill people in the war. Hence, he appoints Katappa as the new War Commander and makes a protocol for him which is to be followed strictly. Now that Baahubali is just a warrior is the troop, he requests Katappa to capture the women and child soldiers but not ti kill them. Katappa positively follows this, but another war troop arrives and kills these captured people. Baahubali stands up to protect them and now, the next thing that would happen would be Katappa backstabbing Baahubali because Bhallaladeva apparently tricks Katappa by giving a protocol which says "I acknowledged there is a traitor in your troop. You will identify him as the one killing our own men and you have to retaliate by stabbing him in the back, which he deserves as a traitor. You shall carry this order as the true servant of Mahishmati without any deviation". As Baahubali dies, his son Mahendra Baahubali is born keeping the promise of his noble father.
Sivgami gets to know about this and realises that the new born son is in danger. Hence, she risks her life and saves the child (as shown in the beginning of the first movie). Most of the people saved by Baahubali were enslaved by Bhallala Deva and few others escape and form a rebellion in order to rescue Devsena. The remaining movie will be about how Mahendra Baahubali regains his rightful throne.