One week to go for the release of the most awaited film, Love Aaj Kal, mainly to see the chemistry of rumor couple Sara Ali Khan and Kartik Aaryan on screen. Both the cuties are busy promoting their film, next they're appearing on The Kapil Sharma Show. From reality shows to visiting different cities, Sara and Kartik are not leaving any opportunity to talk about their film.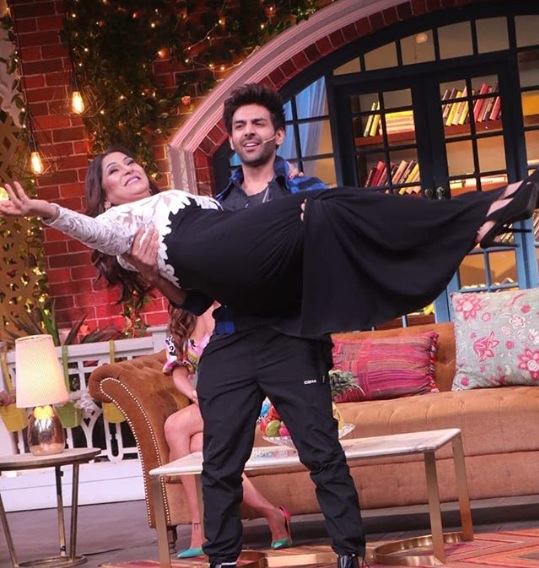 The duo appeared on The Kapil Sharma Show, Kartik Aaryan held not Sara but Archana Puran Singh in his arms. Now we all know that Kapil Sharma never spares Archana and his guest on the show. Sara and Kartik stepped onto the stage, Kapil took their case and asked them as to how is their Love Aaj Kal going and when both, Sara and Kartik didn't react, Kapil says he meant how are the promotions of the film going. Video
Read More:  Funny Video Of Sara Ali Khan And Mommy Amrita Singh's Cheat Day Meal!
https://www.instagram.com/p/B8QhlNynQ0g/?utm_source=ig_web_copy_link
Kapil did his homework perfect and says that how Kartik lifted Sara Ali Khan in his arms during promotions, Kapil wants Kartik to lift Archana Puran Singh on stage, without batting an eyelid, Kartik lifts Archana Puran Singh.
Archana Puran Singh shared on social media a photo with Kartik lifting her as she wrote, "Mujhko bhi toh lift karaa de … #loveaajkal @kartikaaryan #TKSS #thekapilsharmashow #thisweekend.."
https://www.instagram.com/p/B8EzZ7bBsgb/?utm_source=ig_web_copy_link
After lifting Archana Puran, Kartik do a drama as he pretends to faint on the ground and seeing this, everyone burst into laughter.
This Valentines, Love Aaj Kal is releasing, during an interview, Sara had said that she is happy that her father Saif Ali Khan, liked his film's trailer more than hers because every actor is possessive and protective of their work and coming from a filmy background.
Recently, #Sartik video is getting viral where Kartik Aaryan holding Sara in his arm and walking long during the promotions.
https://www.instagram.com/p/B8SuhCepYos/?utm_source=ig_web_copy_link