News & Gossip
Kareena Kapoor, Priyanka Chopra would be better than Alia Bhatt and Parineeti at THIS, reveals Arjun Kapoor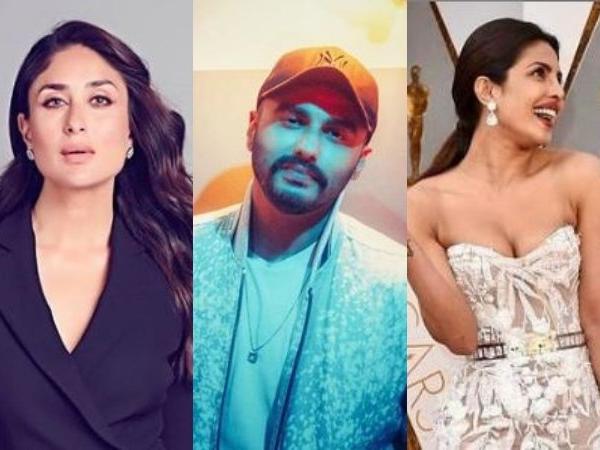 Priyanka Chopra and Kareena Kapoor Khan at Koffee with Karan are the latest talk of the town! All that the ladies said and did and revealed and confessed at the show has absolutely made headlines and we are simply loving the duo's chemistry on the show! One of the most entertaining episodes hands down and the actor Arjun Kapoor has something to say post this hilarious show put up by the ladies! Arjun Kapoor reveals how Kareena Kapoor Khan and Priyanka Chopra are better than Alia Bhatt and Parineeti Chopra at a certain thing and here's it!
https://www.instagram.com/p/BuLTu8sgTe_/?utm_source=ig_embed
In a recent interview to a leading media house, Arjun Kapoor talks about the actresses from two different categories! One is set of actresses who have had years in Bollywood, like Kareena Kapoor and Priyanka Chopra while the other set is that of actresses who have just entered the Industry and are yet to establish a firm step in here! Arjun Kapoor said, "The one thing I can turn around and definitely say is that there is an ace and spontaneity that a Bebo and PeeCee have in the first and second take, for which maybe a Parineeti and an Alia would need three takes. That's the only difference. Kareena and Priyanka would be able to pick up directions faster and react quicker to a director. But that's just a very vague way of putting it."
https://www.instagram.com/p/BuON9vlgP0s/?utm_source=ig_embed
"So I have worked with a different Alia. Today, after seven years, I'm sure she's a different person. Likewise, Kareena and Priyanka must have been different people when they started out and were newcomers (in Bollywood)", he added.
Stay tuned for more updates!